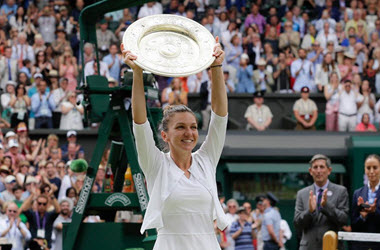 Serena Williams arrived at the finals hoping to walk away with her 24th Grand Slam championship but found a tough challenger in Simona Halep, who needed on two sets to defeat one of the best women players the game has produced.
Simona Halep focused her game not on worrying about Williams, but on winning and she did so nearly flawlessly and in the process almost made it look easy. Considering who she faced, coming away champion at the All England Club couldn't have been sweeter for the Romanian.
Playing at her best from the start of the first match, Halep dominated Serena Williams to earn her second Grand Slam championship. It took Halep under an hour bringing an end to Williams's third Grand slam loss in a row. Commenting on Williams, Halep said,
"I'm very sure, that was the best match of my life."
Entering the match seventh seeded, Halep made almost zero errors racking up only three compared to Williams 23. It was clear the Romanian has matured as a player learning to control her nerves when faced with big matches. In their previous ten appearances together, Williams has come out on top in nine, but in her disappointing performance in her first three majors, Halep has won the last two. Commenting on the difference during the trophy ceremony, Williams said,
"She literally played out of her mind. Congratulations, Simona. It was a little bit 'a deer in the headlights' for me."
ESPN
This years' final was almost a repeat of last years' when Williams lost to Angelique Kerber, almost in straight sets. The same happens last September against Naomi Osaka at the U.S. Open. The losses have not been lost on Williams, who stated that she needs to find a way to win. Her last major win came in 2017 at the Australian Open however after taking off a year due to being pregnant and the subsequent birth of her son, her return has been a struggle, even if she has made it to three major finals,
Williams commented that she has to keep fighting, but Halep didn't make that easy for her and clearly showcased her talent, hardly giving Williams a chance to get into the match. Speaking on the match, Williams and her victory, Halep stated,
"I've always been intimidated a little bit when I faced Serena. She's an inspiration for everyone and the model for everyone. Today, I decided before the match that I'm going to focus on myself and on the final of (a) Grand Slam, not on her. That's why I was able to play my best, to be relaxed, and to be able to be positive and confident against her."
Everything Williams sent Halep's way she was able to counter by simply playing defensively but also by returning aggressively. Halep's returns were excellent as were her volleys with Williams with many returns surpassing 115 mph. For Williams, her mistakes were evident.
"I was over-hitting it, trying to go for too much. She was getting just a tremendous amount of balls back."
The temperature at Wimbledon was lower than average for this time of year hovering in the lower 70's. That allow Halep to score the first 14 of 18 points, but it was clear the crowds were supporting Williams by the cheers they gave when Williams managed to score points. Yet Halep's serve was on point, she scored the matches first ace and went up 4-0 within the first eleven minutes. She looked fresh, rested and ready loose, while Williams looked tight.
It was clear pre-match that Williams had a goal to stay calm, and she achieved that, even while watching her chances of winning diminish by the minute. Williams was seen looking to her guest box with a look that said "what else can I do" and only once broke emotion after a forehand volley in the second set went her way.
The WTA now moves on to the Swedish Open in Bastad, Sweden. Punters hoping to place bets on his and other upcoming WTA tournaments will find many generous signup offers with 888Sports, a leading Tennis sportsbook. Register today and claim up to $250 when making your first deposit and qualify for on-going promotions on this and other tennis events.