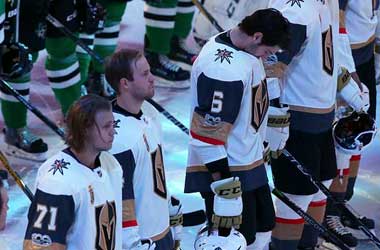 Las Vegas Golden Knights is the 31st franchise to be welcomed into the National Hockey League (NHL). The Golden Knights were expected to play their first NHL home season opener on Tuesday at the Golden Knights' T-Mobile Arena and the franchise had planned an exciting opening ceremony to welcome its fans and celebrate its first NHL game on home soil.
The franchise had put together an opening ceremony that involved great entertainment, surprises for fans and a fantastic show that would be in typical Las Vegas style. The opening ceremony was to take place on Tuesday before the Golden Knights take on the Arizona Coyotes. However Golden Knights general manager George McPhee has announced that the opening ceremony will be postponed to Friday when the Golden Knights take on the Detroit Red Wings.
Tuesday's opening ceremony will be on a more somber and dignified note to honor the victims and families who suffered during the Las Vegas shooting. The shooting that took place on October 1 from the Mandalay Bay Hotel claimed 58 lives and injured more than 500 people. Las Vegas is still recovering from the worst shooting in U.S history and the Golden Knights want to do their part to show their local community strength and respect.
NHL
In a statement, George McPhee said
We'll have a different home opener on Friday, but Tuesday night it's about honoring and remembering the victims and supporting the families and recognizing the first responders. It will be quite a platform to provide some support and love for all the people that were affected
The Golden Knights kick-started their first season in NHL history with two wins and will be eager to win their third game on home soil and give Las Vegas a reason to forget the sadness for a moment and celebrate. The Knights paid tribute to Las Vegas during their first NHL game against the Dallas Stars last week as both teams stood during the national anthem and had placed on their helmets #VegasStrong stickers. The NHL also made a video to honor the city of Las Vegas by asking players from different franchises to speak out and send their strength and support to Las Vegas.
Visitors to Las Vegas have pointed out that the city has a different feel to it as locals are still in shock and the usual party theme has been toned down. The Golden Knights game on Tuesday will give the city an opportunity to come together again and stay #VegasStrong.