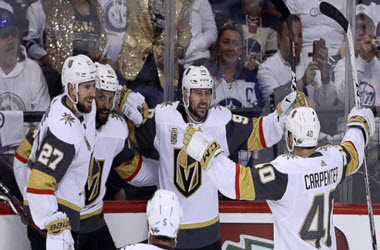 The Vegas Golden Knights put the Winnipeg Jets on notice last night letting them know they are here to win, or at least go down fighting hard, the Jets knew it and so too did Golden Knights coach Paul Maurice.
Prior to the start of last night's game, Coach Maurice had a vision; it seemed it was one that proved to be right.
"I think it's going to be a really, really tight game, I don't think there's going to be as much offence going both ways. It will be a more physical game and will be more contested in the 10-foot area around the net. Game 1 got into a track meet at times. I don't think you're going to see that tonight."
Winnipeg came prepared to do battle, and while they fought hard keeping the puck in the Knights end most of the game, little resulted in their efforts. A third-period power play goal by Kyle Connor was the only thing that prevented Marc-Andre Fleury from earning a shutout.
After the game, Paul Maurice commented stating,
"We've just come through I would think the hardest forechecking team in the National Hockey League, so we should be accustomed to that and be able to handle it well."
Last night seemed like a repeat of the series against Nashville that saw the two trading wins back and forth through to Game 7. The Knights left Game 1 with a 3-1 loss to the Jets and with a Game 2 win under their belts, they now head to Las Vegas and home ice advantage for Games 3 on Wednesday and Game 4 on Friday.
Sportsnet
The Golden Knights have suffered only one loss at home in the post-season. Few thought the Golden Knights would make the playoffs in their first season. Whitby, Ontario's James Neal, commenting on what others have to say said,
"We're not too worried about what other people have to say."
Jonathan Marchessault agreed saying that the Knights showed the world of hockey that they earned their place in the finals commenting that,
"Every time when you get a big game of our group, we show up, and tonight we definitely showed up."
For Marchessault, Game 2 was a must win and felt it would show the team what they are made of, and find out they did. Marchessault scored two of the three goals for the Knights last night with the first coming after Tomas Tatar made a second effort at the side of the net and pushed the puck past Hellebuyck to make it 1-0 for the Golden Knights.
After the Jets got caught in a line change with the puck at centre ice, Marchessault found himself part of a three-man breakaway and sent a backhand shot past Hellebuyck to make it 2-0.
Commenting on the play and subsequent earlier comments to the media, Marchessault said,
"If you're going to talk out there in the media that you have to be better, I think you need to lead by example, and I tried to do that tonight."
The Jets failed to push back hard enough against the Golden Knights, and if they want to win games and advance to the finals, that is exactly what they will need to do, that and outplay the fast and aggressive Golden Knights.
Vegas adjusted the plan of attack last night and deserved the credit for doing so, and that is what Winnipeg will need to do in Games 3 and 4 when facing the Knights hometown crowd.
Winnipeg is better poised with an advantage in scoring over the Knights when looking at the stats. The Jets are 16-9 but fail to generate second-chance opportunities against the Knights who shield Fleury. Yet, the Jets control the puck more, and that possession needs to generate results.
For Blake Wheeler, it is feeling positive, saying,
"There was about 57 minutes of that game that were good for us. Three minutes of it got away from us. They could have scored four goals in three minutes … They're going to create some momentum and put the puck in the net. It's just a matter of how you react to it."
Winnipeg has been quick to react all season, and have not dropped back-to-back games since March. However, their aspirations to make it to the Stanley Cup final will be determined by how they deal with the loss last night, it history proves anything, the Jets will come back stronger for it.