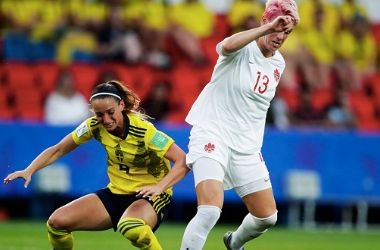 As reported by BBC, CBS and so many other places, the Canada women's team are currently at the half way point of their clash against Sweden in the Women's World Cup. We won't ruin the scoreline for anyone who may have recorded it and wants to watch it later, but one way or another, this is such a monumentally large moment for the sport of soccer over in the Great White North.
We all know that the women's team is far superior to the men's, and for motivation more so than anything else, it'd be great for them to go deeper into this tournament. It isn't necessarily a guarantee that this is going to happen, especially given the strength of some of the other nations, but they will be in the hunt if they can just get past this first hurdle.
Lovely stuff
We've already seen the United States, the supposed clear favourites, struggle to get through their tie, and we know that (obviously) it could happen to quite literally anyone. In terms of pure quality there's enough of a reason to believe that Canada to go far, but the same could be said for a number of other nations.
"I expect a tight match and a tactically very interesting one," said the head coach.
"Our team has worked on being the most adaptable team in the world, so whatever system they play, we will be ready.
"We will take on whoever is thrown at us in this tournament. This time it is Sweden; we hope there is another one."
Those aren't exactly words that inspire us, but perhaps that'll change as things go on. There are areas that need to be improved and that much is kind of obvious, but we really don't buy into the idea that Canada need to lose in order to open the door to these changes. They can be put together in any way, shape or form, and all it takes is a little bit more of a push.
Let's do this
The fans are ready to see improvements, but at the same time, they're also more than happy to see the team put together a miraculous (and somewhat remarkable) run late into the tournament. At the international level there is literally anything that can happen, and that is an extremely exciting position to be in.
Football is indeed the beautiful game and has been for longer than most of us can remember, and we want to see that translate into the women's game even more so than it already has been. There's more of an acceptance for the game at this level for the women, especially in Canada, but we want more. This women's team, despite not being involved, is going to play a big role in Canada's third of the 2026 FIFA World Cup.
We've all seen what they're capable of and we've all realised the potential within this nation in correlation to soccer, and it excites us. Sweden are good, but in this second half and beyond, we think Canada can keep on surprising people.