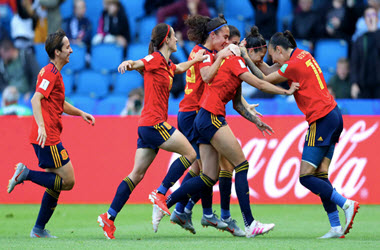 The German women's team manage to hang on to a slim margin win over Spain yesterday as the two met in Valenciennes, France at the Women's World Cup. There was a feeling of tension in the air, and that was not lost on Coach Martina Voss-Tecklenburg.
Voss-Tecklenburg also felt the feeling of relief after the Germans managed to edge ahead late in the match to go up 1-0, and after the final whistle blew, it was enough. After the match, Voss-Tecklenburg, who had a talk on the field with her players, said,
"There was some tension. I told my players we pushed our limits."
There was little doubt that Voss-Tecklenburg was not pleased with how Germany gave up the ball, but after the match, told the squad they should be proud of the win and remain focused towards their goal of winning a third World Cup title. Germany is finding that winning games in Group B is not as easy as they have in the past. They only managed to prevail against Spain after Sara Däbritz scored in the 42nd minute. Commenting on the goal, Sara Doorsoun, a defender on the German squad said,
"In the last 15 minutes in the first half, we came together and said, 'OK be more self-confident.'"
Däbritz has luck on her side and was in the right position to act after Spain's netminder was unable to hold onto the ball after a header from Alexandra Popp. That saw a loose ball that Däbritz pounced on and sent into the net. The mistakes added up for Spain and head coach, Jorge Vilda commenting post-match stating,
"We were playing some great football, in the end some mistakes cost us dearly against a strong side."
It's full time in Valenciennes…

And @DFB_Frauen win again! #GERESP | #FIFAWWC pic.twitter.com/CmRoa5dQgU

— FIFA Women's World Cup (@FIFAWWC) June 12, 2019
Most of the action on the field came from Spain, with intense passing and a level of confidence not shown by Germany. Spain made it tough for Germany to get possession of the ball and missed multiple chances to score. Commenting, Doorsoun said,
"When we got the ball they put a lot of pressure on our defence. It was definitely tough to get the ball."
This was only the Spanish teams second World Cup appearance. They were equal in all ways to the German team, which has been successful in winning two World Cup titles and making the quarterfinals in eight appearances. The problem for Spain was failing to complete moves that resulted in goals.
One of those was a high ball at the 14th minute mark that was sent to Nahikari Garcia after she broke through the line only to see her shot go wide instead of beating German goalie Almuth Schult. Commenting, Germany's Vilda said,
"We showed what Spain can do on the pitch and I think the team is strengthened by our performance. We have to never been as close as we are now … and we need to use this as a basis for growth."
#GER are now unbeaten in 18 consecutive #FIFAWWC group stage matches, winning 14 of those games and only drawing four.

Wow. pic.twitter.com/cXCO5wQRX8

— FIFA Women's World Cup (@FIFAWWC) June 12, 2019
Germany understands that if they hope to make the quarterfinals or win their third title, they will need to improve. They won their match with China with a slim margin, and the match against Spain ended with the same results. That understanding is understood by Doorsoun, who said post-match,
"We know that we have to play better, but mentality of the team is good."
Germany will have to be on top of their game when they face South Africa on Monday, who are sitting in second place in Group B. Punters hoping to show their support for Germany in the upcoming match will find multiple leading sportsbooks offering FIFA World Cup action. Register at one of betting.ca's recommended bookmakers and take advantage of new player promotional offers today.