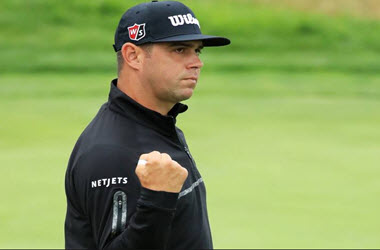 As the U.S. Open got underway in Pebble Beach, the toughest part was over for Gary Woodland figured after passing coming out of a rough stretch.
That rough path came during the eighth hole after dropping his shot between the oceans edge and a bunker. Gary Woodland managed to pull off a fifteen foot shot to the green and then sunk a putt for par. In doing so, he kept his scorecard clean. He then followed that with a long drive off the ninth halfway down the fairway into a divot, yet it seemed nothing could ruin the day he was having.
Woodland responded using his 7 iron and sending the ball to the green and with a 50 feet between the ball and the hole, he made the putt, smiled and set another Pebble Beach record gaining and putting him up two shots and into the lead. Commenting on the two shot lead, Woodland said,
"That was just a bonus, Hit a beautiful drive. I was in the divot, a pretty deep divot. We were a little indecisive what we were going to do. We tried to take a little less club and hit it hard and play out to the safe to the right, and it was nice to knock it in."
United States Golf Association
At the end of the round, Woodland sat at 6 under 65 and equalled the record at Pebble Beach, his second such achievement in a row. That was a solid achievement for Woodland, who faced a firmer course, even if somewhat software due to the heavy mist that blanketed the course earlier in the day.
The solid performance put Woodland at 9 under 122 for round one and two and only one shot off the record that was set by Tiger Woods in 2000. The only difference was that Tiger took a commanding 6 six shot lead while Woodlands is two shots.
Who will come out to try to challenge Woodland for the lead is a mystery. Rory McIlroy is sitting in the top 10 but had some patches where it looked like his game was suffering due to a faster course. The top 10 are only separated by five shots and being the U.S. Open is now halfway through, anything can happen.
The list of top contenders not far behind Woodland includes Brooks Koepka, who scored two birdies late in the round to close out the day at 69. Commenting on his chances and how he is feeling, Koepka said,
"I feel great. I'm excited. I've got a chance. That's all you can ask for. I just need to make a few putts. Sometimes the hole just needs to open up. If I can get off to a good start tomorrow, have that feeling where the hole's opening up, it could be a fun round."
Surprisingly, Tiger Woods is absent from that list and is sitting in eleventh after shooting 72, nine behind the leader. While he shot a birdie on the 10th hole, he did little else for the remainder of the round. That is something punters were not expecting and is one that will be factored into the odds set by leading sportsbooks such as Spin Sports, who is offering newly registered players a $200 bonus when making their first deposit.
McIlroy was looking strong for taking the lead until running into trouble on the 13th that ended with a bogey. He also had trouble on the 14th after his ball landed and rolled off the green onto the fairway. Oosthuizen was another with a strong performance before going back and forth between shooting an almost equal number of bogeys and birdies. Commenting on the day, Oosthuizen said,
"Seven birdies and six bogeys — I'm not a big fan of bogeys, but miss these greens, it's so difficult around the greens in the rough. And you can't control the ball. You basically are guessing what it's going to do. And all those loose iron shots, I had tough chips, and end up bogeying probably all of them."