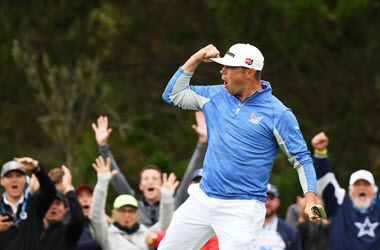 There is little doubt that the U.S. Open is a test on golfer's nerves and their resolve to stay focused. One of those that faced that at Pebble Beach as the third round began was Gary Woodland.
After making bold plays, Woodland stayed on target and shot 2-under 69 putting him ahead of Justin Rose by one shot at the U.S. Open heads into the final round on Sunday. Sitting just behind Rose and Woodland, Brooks Koepka shot a 68 that was bogey-free and that put him in position to earn this third back-to-back U.S. Open title.
Pebble Beach is known for its strong winds, but this week they have been absent, and that has helped Woodland in his efforts to stay in the lead. Yet, good fortunes can change quickly and nearly did for Woodland in the final hour after it appeared he would lose two shots on the 12th hole only to sink a 35 put and come in on par. He also saved himself from losing a shot on the 14th with another incredible 40 foot putt. Commenting, Woodland stated,
"I'm excited to be where I'm at right now."
United States Golf Association
Woodland began the third round at 11-under 202 and was without much breathing room as Rose, who won the U.S. Open in 2013, was on his heels and birdied the 18h hole to end the day at 68. Koepka experience a few mishaps over the course of the day after misinterpreting on the 15th hole fairway that saw him almost unable to get a visual on the green. That resulted in Koepka sending his shot far off from the green before managing to sink the ball to earn par.
Koepka was on a group that all saw four shots behind the leader. That group included Louis Oosthuizen, who shot 70 for the round and also Chez Reavie, who shot 68. Koepka, who won Erin Hills in 2017 continued to showcase his powerful putting however will need a flawless final round and some luck to make up the four shots he is behind. However, he is known for handling pressure well, and if successful, will earn a fifth major title in the last nine majors he has competed in, and that is one that no one has accomplished since Tiger Woods. Speaking of the pressure, Koepka said,
"I just enjoy the pressure. I enjoy having to hit a good golf shot, making a putt when the pressure is on. If you're within three on the back nine, anything can happen. Hang around all day and see what happens."
The last player to have the chance at winning three U.S. Open titles in a row was Curtis Strange. He to shot a 68 during the third round at the 1990 U.S. Open and was within two shots before faltering and ending the round at 75. Tiger Woods remained out of contention after ending the round at 71 and eleven shots behind Woodland. Rory McIlroy also had a rough day ending with a 70 and five shots off the lead.
The final round will take place on Sunday, and for punters, bookmakers such as Bodog offer prime opportunities to place bets ahead of the final and include not only favourable odds, but generous signup offers.