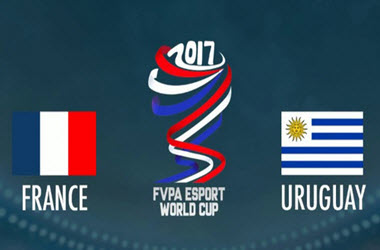 Game 1 of the quarter-finals and the drama continues. After a solid performance in the Group and Round of 16, Uruguay failed to advance to the semi-finals after being defeated by France in a 2-0 shutout.
France's Antoine Griezmann was hailed the hero of the day with his second goal that all but secured victory for the French nation. Griezmann sent the ball towards the net in what looked like an easy save for the Uruguayan goalkeeper, but his hit open palms went over his head and past the goal line. For Fernando Muslera, it was one he won't soon forget and instantly knew the consequences.
Yesterday's victory means France is off to the semi-finals and will face either Belgium or Brazil on Tuesday. For French Canadian bettors, France's win was welcome news, and with it will come a fresh round of interest in betting with top-rated Canadian friendly sportsbooks, all of which are offering strong incentive packages for those wishing to place bets on World Cup matches.
Yesterday's goal was Griezmann in the tournament, but his celebration was double-edged as he has many friends on the Uruguayans team. Commenting, Griezmann said,
"I was playing against a lot of friends, so I think it was normal not to celebrate."
France's first goal came at the 40th-minute lark after Raphael Varane scored with a header after a free kick from the right side of the field. His header sent the ball past Muslera into the corner to give France a 1-0 lead.
It was only 21 minutes later when Griezmann scored to make it 2-0, and it was reminiscent of the goal he scored in Champions League final. Speaking about Griezmanns goal, Oscar Tabarez, coach for Uruguay said,
"We all saw that it was not a very common goal, but Muslera has been a very important pillar for all this process and through all our work on our way up to here, so I'm not going to wash my hands putting any responsibility on my players. This is the kind of thing that I will discuss with the players in the locker room."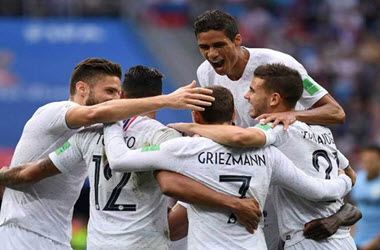 Griezmann, who plays professionally for Atlético Madrid stated that he has a special place in his heart for Uruguay. He is fluent in Spanish and has been seen in the past wearing the Uruguay team jersey. Diego Godin and Griezmann are good friends, and Godin is the godfather of Griezmann's daughter, making today's win bitter-sweet.
France has made the semi-finals in the last two World Cups but failed each time to advance. They won the title in 1998 but lost in 2006 due to a draw and the decision coming down to penalties – a tough way to lose.
France outpaced Uruguay from start to finish in yesterday's match showing superior speed. Uruguay failed to attack often and with Uruguay's top striker out due to an injury, they simply were unable to match France.
Kylian Mbappe once again was strong on the field. While he didn't score, he was a danger when on the attack. Mbappe has stated Ronaldo is a big influence to his style of play and has many comparing the young player to Zinedine Zidane. He became the first teenage in world cup history to score two goals in a knockout game since 1958.
With a player as skilled as Mbappe, France is in a strong position to make the finals – time will tell.