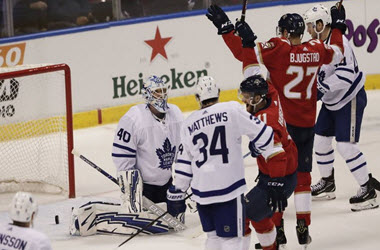 The Florida Panthers found the inspiration they needed last night with the return of Vincent Trochek, and it what exactly what was needed as they went on to a 3-1 victory against the Toronto Maple Leafs.
Last night was Trocheck first return to the lineup after being out for 27 games due to suffering a broken ankle in November against the Senators, and while the Panthers may not have been first to score, they wasted little time in doing so. The Florida Panthers had hoped after the All-Star break that Trocheck would return, but he insisted on returning sooner. Commenting on his return, Trocheck said,
"It was awesome. Never felt better. Just thankful that I'm able to come back and play hockey again. It's been a long time coming. I don't know. I've been pushing for a while. The day it happened I gave Dave DiNapoli, the team trainer a date. I said Jan. 21st is my date that I was going to come back."
Toronto's Ron Hainsey scored the Maple Leafs only goal, in what was, an uncustomary off night for the young team. Firing off a slap shot from the point after Kapanen sent a pass to the open Hainsey to make it 1-0, and it looked like Florida would continue their struggle, but it was not to be.
Midway through the first after Keith Yandle attempted to drop the puck back, it bounced off the stick of Patrick Marleau and first Florida's Mike Hoffman alone sent a slap shot through a packed crease to tie the game 1-0.
Sportsnet
Less than five minutes later, Mike Matteson made it 2-1 after failing to cover the end zone. The Toronto Maple Leafs attempted to take advantage of scoring opportunities but seemed unable, even clumsy at times and with the third period coming to an end, Mike Matheson took advantage of an empty net scoring with two minutes remaining to give the Panthers a much needed victory.
Roberto Luongo had twenty saves for the night and is now four wins away from becoming tied for third place for all-time NHL wins with Ed Belfour. The win seemed to give the team a big boost, with Luongo pleased to see Torcheck back adding,
"It's a huge boost for our club. We didn't think he was going to play, but just having him at practice yesterday, it really got the boys jacked up. It was nice to see him in the lineup and contributing."
The Maple Leafs have faltered in their last nine games giving up six. It was Garrett Sparks first start since the 29th of December, and one that saw him happy to be in the net.
"I just wanted to show up tonight and give us a chance to win. I wasn't able to make that extra save tonight but moving forward these are games I feel I can win."
The loss was not anticipated, especially with sportsbooks such as Bodog, who were favouring the Maple Leafs to come away on top, especially after defeating Tampa Bay on Thursday night. Mike Babcock felt the Panthers played better right from the start adding,
"It took us a while to get our legs going. Now with Trocheck and Bjugstad back they've got a good team here. We knew it was going to be hard coming in and we would have liked to have been better. We have a long way to go but tonight was 20 guys doing their job and everybody contributing."
The Maple Leafs now return home to welcome the Arizona Coyotes on Sunday and the Washington Capitals on Wednesday before being off for the All-Star break. Florida meanwhile will head to Nashville for a one game road trip before returning home to welcome the San Jose Sharks on Monday.