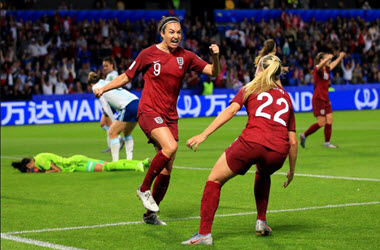 England's World Cup is being given praise for their efforts and success at the World Cup, which combined has helped them to advance to the final 16. A large part of that success has come from the skills and connection that teammates Beth Mead and Jodie Taylor have built together.
Mead and Taylor were instrumental in leading England to a 1-0 victory in their match against Argentina. The only goal of the match came after Taylor jockeyed into position as Mead sent a cross shot to Taylor, who then snuck it into the net. It was enough to put England into the second round in advance of their one remaining game in Group D.
Taylor, while speaking to the media post-match said she knew exactly where Mead, who is her roommate, was going to play the ball, adding,
"It must be roommates becoming more connected. It was such a good ball from Beth. I do believe the closer you are as a team the better your performance will be on the pitch."
England had been frustrated by Argentina for the first 60 minutes of the match with a big part of that frustration coming at the hands of Argentina's skilled goalkeeper Vanina Correa, who was almost flawless before Mead and Taylor scored.
Into the last 16 we go!
Professional performance from the whole squad + @Jodes_14 with the winner! ⚽️
Now focus turns to Japan! 🦁🦁🦁@england fans you were amazing! pic.twitter.com/wSP66rSMpx

— Steph Houghton MBE (@stephhoughton2) June 15, 2019
The goal by Taylor was the end of a long dry spell that hasn't seen the star footballer score since the European Championship in 2017. Commenting about that drought and the comments others have made about it, Taylor stated,
"It's not until people start bringing it up that you start thinking about it."
Taylor's experience playing for the Seattle Reign helped her to be patient against the Argentines, who earned a victory over Japan in their opening match. It was the teams first World Cup point but finding an opening past Correa proved a difficult task.
Correa, at 35, who delivered twins in 2017, was talked into returning to competition. The return of Correa saw her becoming the only women from Argentina to appear in three World Cups. Speaking on her return, she stated,
"Generally, for women goalkeepers, things are changing, we're having better training," she said. "It's not nice to criticize goalkeepers even if we do sometimes make mistakes."
One of those who learned first-hand just how hard it was to put one past Correa was Jill Scott, who during the 13th minute watch as her header was abruptly stopped by the Argentinian. Another came when Nikita Parris watched her chance to score evaporate after Correa deflected her shot hitting the post and narrowly missing its mark. Before the halfway point, Correa managed to stop a shot on point by Mead to stop what could have been a devastating end to the match for Argentina.
England's Alex Greenwood commented that they thought the ball was going in, but it took more than that to beat the experienced netminder. Commenting, Phil Neville, coach of England's Women's' team speaking about Taylor's goal stated,
"I told Jodie before the game that I knew she would score," reap your rewards from your training performances. She thrives off service, she thrives off balls through and the support from around her."
This was the first World Cup that England earning victories back-to-back and advancing before the initial group play was over. That puts them in a good position to prepare for the final 16 and for punters betting on the World Cup, a chance to study the stats and prepare their bets in advance with the likes of Sports Interaction, a leading online bookmaker. England will now face off against on Wednesday and then prepare for the final 16 matches.