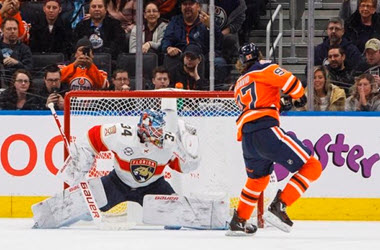 The Edmonton Oilers dug deep and found the right combination needed last night to defeat the Florida Panthers after tying the game during regulation time, and for Connor McDavid, the timing couldn't have been better.
McDavid managed to score late in the third with less than 10 seconds left in regulation time to force the Panthers into overtime after it appeared the Panthers were about to break a three game losing streak. However, as the two took to the ice for overtime and subsequent shootout, it was the Florida Panthers who left without the win making it their fourth loss in a row.
Edmonton's Connor McDavid scored two goals last night and earned an assist. Also scoring was Darnell Nurse and Leon Drasisaiti, Alex Chiasson and Nurse were credited with assists. McDavid, who scored the tying goal felt they found a way to win the game adding,
"Maybe we didn't deserve it. But we stuck with it. It was gritty. There was just a terrible bounce for them to go ahead in the third. To lose on that would have been disappointing."
As the Oilers and Panthers went to the shootout phase to determine a winner, it was Ryan Nugent-Hopkins who scored first for Edmonton. McDavid followed with a second shootout goal, and after Alexander Barkov's shot was stopped by Cam Talbot, the Edmonton Oilers earned a 4-3 victory over the Florida Panthers.
Sportsnet
Edmonton, who needed the win last night after losing the last five at home. With Edmonton down in fifth place in the Pacific Division, the win will help punters when placing bets in upcoming Oiler games, and for sports betting sites such as Canadian favourite Bodog, it will help in their assessment when placing odds on those games. Commenting on his players, coach Ken Hitchcock, said were exhausted but that he felt they really stood up to the task in the third period adding,
" Everybody knew, halfway through the first period, we had nothing. They just helped each other through. It's a hell of a sign for having absolutely zero in the tank. To come up with two points is, for me, really, really impressive."
Denius Malgin, Henrik Borgstrom and Frank Vatrano scored for the Panthers, Bogdan Kiselevich earned two assists, and Mike Hoffman earned one. Florida coach Bob Boughner commented on the loss stating,
"It was unfortunate the way it ended, eight seconds to go to get two points, I thought we played a heck of a road game. I think we gave up 18 shots in regulation. We produced some chances, we scored a big goal at the end, we did a lot of good things. I feel bad for the guys, because I thought they worked hard, I thought they responded."
Florida began the first period looking strong scoring halfway way through the first to take an early first period lead. However, the Oilers responded and less than 30 seconds later tied the game 1-1 after Alex Chiasson slipped the puck back to Darnell Nurse to send it past starter James Reimer.
Florida managed to retake the lead less than five minutes later while the Oilers were in the middle of a turn around to go up 2-1, but as the second period drew to an end, McDavid connected with a rebound and caught an unprepared James Reimer to once again tie the game.
Cam Talbot, goaltender for Edmonton, said he had never seen a bounce like it, adding,
" You get ones that go off of skates and at least they are being funnelled towards the net. That one was being pushed away from the net and somehow ended up back in it."
As the third period got underway, Borgstrom managed to catch a bouncing puck that was deflected in to give Florida a 3-2 advantage. As the clock ticked down, it looked like the Oilers luck was running dry, however, with an empty net and one man advantage, with seconds remaining, Connor McDavid scored to force overtime and with a scoreless overtime period, a subsequent shootout.
The Florida Panthers are next due to play the Calgary Flames on Thursday night before heading to Vancouver for the fourth of their five game road trip against the Vancouver Canucks. Edmonton will welcome the Arizona Coyotes on Saturday before playing host to the Buffalo Sabres on Monday.