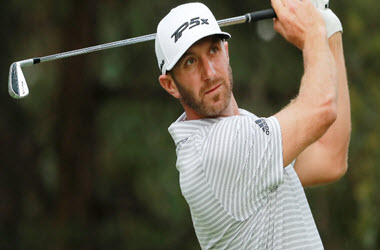 Dustin Johnson set the pace that had the others chasing on day two of the Mexico Championship. It was also a day that the crowds buzzing with excitement after Tiger Woods scored multiple birdies to end the day back in the hunt for the lead.
Johnson has another solid day at the Chapultepec Golf Club not one ending a hole with a bogey but instead putting for birdies on every hole to close the day at 67 and extending his lead over Rory McIlroy by two shots.
The American golfer, who lives in South Carolina, said he "Just hit a lot of fairways, hit a lot of greens." However, it was Woods who made memorable moments after finally figuring out the course. It was him scoring multiple birdies that put him back in the game and ending the second round with a 66.
That could have improved had Woods last hole not ended with a 9-iron slice that hit the green and spun sideways leaving him to shoot for par instead of a birdie. Commenting, Woods said,
"The ball was sitting down just enough where I didn't think I could clear that tree. I ended up going back to the 9-iron and realized, 'Geez, I've really got to slice this thing.' So I opened up and gave it as much of a cut motion as I possibly could. And it worked out."
PGA
When Dustin Johnson won the Mexico Championship two years ago, he was playing the best golf of his career, and it appears he is in on his way to repeating that once again. The course at Chapultepec Golf Club is ideal to his style of golf and style of thinking. Johnson commented that it is one that makes you focus adding,
"You've got to think, and you're doing a lot of calculations with the numbers and trying to figure out how far the ball is going to actually go. So I enjoy it. It's pretty narrow, but it's tree-lined, so I do like that."
Rory McIlroy was the main one chasing Johnson and not far behind. McIlroy scored back-to-back birdies but gave up a shot after his shot hit a hill on the sixth hole fairway and went into the water. However, McIlroy ran into other problems on the ninth when he missed a fifteen foot put for birdie that hit the rim and stopped five feet away. He missed his second attempt for a double bogey and if not for that, would have been tied with Johnson. The mishap didn't seem to have much of an impact on the Aussie, who said.
"It's funny, I had breakfast with a few of the boys that played later yesterday and they said it was going to be hard to hole putts in the afternoon, and they were right. I had a couple go the opposite way on me. I missed a couple short ones. But overall, I stayed patient. After I made the double on 9, I sort of righted the ship and made a lot of pars and made one birdie. It could have been worse. It could have been better," he said. "But still in a good position going into the weekend."
Matt Kuchar is also giving Johnson something to worry about sitting in third. He began the day with birdies on the first four holes, and that helped him end the day at 67. However, it was Tommy Fleetwood who began the day the strongest shooting eagles on the first two holes becoming the first to so since 2009. That put him at 65 at the end of the round propelling him into fourth behind Kuchar.
The third round on Saturday and will be an interesting round as to whether Johnson can hold the close-knit pack. Punters interested in PGA action will find 888Sport offering action and generous signup bonuses worth up to $250. Register today and enjoy continued golf betting promotions and an ever-increasing range of betting markets.