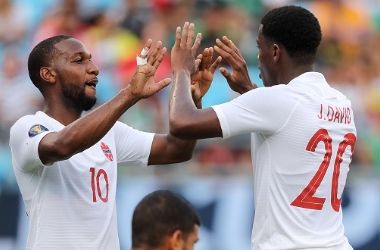 Canada may have made their way into the quarter-finals of the Gold Cup tournament, but don't let that cloud your judgement. Yes, it's a great step forward for them, but an even better step forward would be for them to continue progressing through the tournament – which we all know they're capable of doing. The men's team has come on leaps and bounds over the course of the last few years, to the point where there's a really positive future ahead of them as the years tick by en route to the 2026 FIFA World Cup.
As reported by CBC and the Toronto Star, though, taking quarter-final opponents Haiti for granted is the worst mistake they could make at this stage of proceedings.
Could destiny await?
"For Canada, it's definitely a red flag," Herdman said. "We may possess quite a lot in this game but in those moments we lose the ball, we'll have to be on guard." "I think coming into this game, it's just very clear," he said. "It's must win. It's must win to move to the semifinal."
"These are the moments our team has been questioned. "(The team has) got a goal, they're very clear on that goal. And I'm pretty confident that they'll give their best without any distractions to get the result for Canada."
Herdman seems to have a smart head on his shoulders, and he really does feel like the right kind of person to lead this squad into the future. Of course, we won't know that to be a fact until he really starts to pull results out of the bag in high pressure situations, which is what he faces against Haiti.
What happens next?
This isn't going to be the walk in the park that many are anticipating, and it's important for Canada to understand that early on. They need to treat Haiti with the kind of respect they'd give to Mexico, Costa Rica and United States, because if they don't, they'll almost certainly come unstuck. There's a lot of pace on their side of the ball, and that's quite easily one of the biggest things to keep an eye out for.
The route to a potential match-up with the USA in the final is now clear, but of course, simply getting to the semis is the main goal here. Mexico or Costa Rica will await them, neither of whom should be feared by the Canadians. Sure, they've already lost to Mexico in this very tournament this year, but we'd rather just see that as 'experience' that they can learn from and utilise as we look ahead to the future.
We're really excited to see how this game develops from the first minute until the very last, because as we saw with the women's team, games like this can change in the blink of an eye. Keep your eyes on the ball, lads, because if Haiti get a chance to expose us at the back, they're going to take it with both hands.