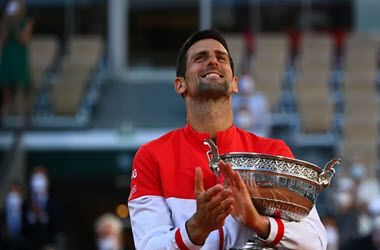 Two sets down in the final, the worlds No. 1, Novak Djokovic, dug deep to fight back and defeat Stefanos Tsitsipas 6-7, 2-6, 6-3, 6-2, 6-4 to win his nineteenth Grand Slam on Sunday at the French Open.
With eighteen previous Grand Slam titles, few can argue that Novak Djokovic talented, let alone determined. Unwilling to concede to Tsitsipas, Djokovic showcased his skills, proving he still has what it takes to win Grand Slams.
The win on Sunday was Djokovic's second Grand Slam title at the French Open. The win also put him one away from 20 Grand Slams and joining the ranks of fellow ATP players, Roger Federer and Rafael Nadal. After winning the Australian Open at the beginning of the season, Djokovic is 50% of the way towards a calendar-year Grand Slam, a feat no other tennis player has achieved since 1969 when accomplished by Rod Laver.
At 34, calendar-year Grand Slam managed to eliminate Nadal in the semis and deny him the chance to earn his 21st Grand Slam. That feat took Djokovic over four hours to accomplish one Friday evening and was one he liked to climbing scaling Mt. Everest. For tennis punters, the remaining season will be one to keep a close eye on, especially if betting on Djokovic in up coming Grand Slams.
Considering Nadal has only lost three matches in 108 at the French Open, it makes the accomplishment that much sweeter for Djokovic, who also eliminated Nadal in 2015 to advance to the finals before losing to Stan Wawrinka.
Roland Garros
Early into the final, Djokovic appeared tired, and that gave the younger Tsitsipas the upper hand for the first two sets. Post-match, Djokovic spoke to the media, stating,
"It was not easy for me, both physically and mentally, especially over the past two or three days."
However, as the final entered the third set, Djokovic got his game together and began serving flawlessly, giving up not a single breakpoint for the remainder of the final. Sunday's final was also the sixth time Djokovic scored a comeback in his career.
A big part of that can be chalked up to experience, especially considering Sunday's final was only Tsitsipas' second Grand Slam final. Whereas, for Djokovic, he has nineteen wins and a significant amount of experience to tap into when needed, which is precisely what he did on Sunday.
While the men's final was enough to keep fans on the edge of their seat, the women's final proved to be a final that few expected, one that saw unseeded Barbora Krejcikova defeating Anastasia Pavlyuchenkova in three sets to win her first Grand Slam title.
This year's 2021 French Open was only Krejcikova's fifth major tournament in her career. At 25, the Czech Republic won the final 6-1, 2-6, 6-4. Few others have gone from being unseeded to winning a Grand Slam title, a feat that saw the unseeded player jumping to No. 15.
Krejcikova, who lost her coach in 2017 from cancer, said she was on her mind during the final before adding the win was a big achievement and one that was unexpected. The ending came when a backhand from Pavlyuchenkova on a fourth match point landing long.
After Krejcikova realised she had won, she blew kisses and closed her eyes as a tribute to Jana Novotna, her former coach and winner of the 1998 Wimbledon title. Commenting post-match while speaking to the 5,000 in attendance, Krejcikova said,
"Pretty much her last words were just enjoy and just try to win a Grand Slam. And, I mean, I know that, from somewhere, she's looking after me. All of this that just happened, these two weeks, is pretty much because she is just looking after me from up there. It was amazing that I had a chance to meet her and that she was such an inspiration for me. I just really miss her. But I hope she's happy right now. I'm extremely happy."
This is the third time since 2017 an unseeded woman has won the title at the French Open. Krejcikova will now attempt to be the first women since 2000 to win the Women's Doubles final at the French Open, a feat last achieved by Mary Pierce.