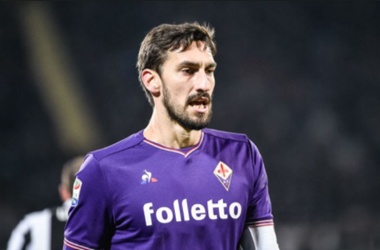 Davide Astori, Captain for Fiorentina was found unresponsive in his Italy hotel room and has passed away at the age of thirty-one of an apparent heart attack prior.
Astori was found by Fiorentina staff after failing to appear for breakfast in the morning. As a result of his sudden passing, Fiorentina cancelled their scheduled game in Udinese. Astori's body is to be autopsied at the Santa Maria della Misericordia Hospital.
Antonio De Nicolo, a prosecutor in Udine stated,
"The belief is that the player died of a cardiac arrest by natural causes. It is strange that such a thing should happen to a professional who is so closely monitored without there being any warning signs."
Davide Astori has played with ACF Fiorentina  said Astori since 2015 was expected to sign a lifetime contract with the club next week but was sidelined by an unexpected illness.
Andrea Della Valle, President of Fiorentina FC, on behalf of the club said,
"For this terrible and delicate situation, and above all out of respect for his family, we appeal to the sensitivity of everyone."
Astori was married and had one daughter with wife Francesca Fioretti. His wife was visited by directors of the club who personally met with his wife to inform her of his passing. The directors further alerted his parents by telephone.
Euronews
Fans flocked in droves to the teams stadium leaving flowers and messages of condolences. Many included banners paying tribute to the captain at other stadiums throughout Italy. For fans, the news came as a shock, as it did to the soccer world and those who knew Astori. The English Football Association announced it will honour Astoir when Italy plays on the 27th of March at Wembley Stadium.
Cagliari and Genoa were in preparation for a Serie A game when told of Astori's demise. A number of those players had played previously with Astori left in tears after learning of his death and the subsequent cancelation of the scheduled match.
Diego Lopez, coach for Cagliari, who had previously coached Astori when he played with the Sardinian club, went into shock requiring treatment by medial personal after hearing of his passing.
President of Italy's national Olympic committee, Giovanni Malago stated,
"I'm shocked, it's an absurd tragedy. The football world is deeply affected by what has happened. Words mean nothing, the decision to postpone the matches is the right one.
He continued by adding,
"Often people say 'the show must go on' but that's not always right for me. Football is the most popular sport but also the one that has to give special signs at this time."
Gianluigi Buffon, a former teammate and goaltender for Italy said it is uncommon for him to speak publicly about others but made an exception over Astori's death by posting a picture of Astori and saying,
"Ciao dear Asto, because you have a young wife and family who are suffering, but above all your little daughter, deserves to know that her father was in every way a GOOD PERSON. a TRULY GOOD PERSON."
Antonio Conte, previous coach for the Italian national team in 2014, 2015 and 2016 Nwas in near tears and said,
"This is a tragedy. This news really hurt me and it's very difficult in this moment to find the and right words for the family. … He was a great player, especially a fantastic guy."
While autopsy results are still pending, funeral arrangements are expected to include many in the football community as it is clear that his passing has caused an outpouring of grief. Whether it will be a private family affair or one that allowed for fans and the public to show their respects is unknown at this time.