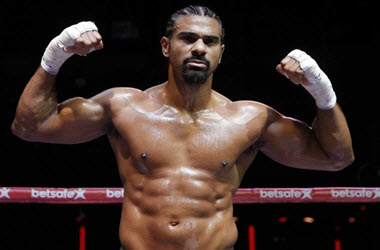 David Haye, in an announcement that was expected, stated he was officially retiring from the sport of boxing. The announcement came after Haya, a two-time division world champion, lost in a knockout decision to Tony Bellew in May of this year.
At the age of 37, this was the second loss to Bellew for Haya. It was his hope to win the second fight and challenge Anthony Joshua for the world title. He had stated if unsuccessful against Bellew, a fighter many felt was less skilled than Haya, he would retire.
David Haye's first loss to Tony Bellew came in Match of last year after the boxer ruptured his Achilles. His road to recovery was slow after surgery to repair the Achilles due to a bicep tear that occurred on a stair machine. What became apparent for Haye was the injuries were impacting his ability to fight and compete at the level needed to be a world champion. The multiple cuts, injuries to his hands, shoulders, biceps and calves amounted to Haye having to reduce the number of fights he took on, and for many, it was surprising he didn't retire earlier.
The loss to Bellew was the final straw for Haya to finally hang up his gloves. Many felt he should have done so immediately after the fight but Haye waiting more than a month before making the announcement many knew was coming. The reality is, if Haye could not beat a fighter like Bellew, the odds were slim he could challenge others.
Commenting on the delayed announcement, Hate said,
"Of course, my ego would have loved to have retired on a win, or as a champion. The boxing gods have spoken. They will no longer protect me with the freakish speed and power I used to possess. And without these God-given gifts, I completely lose my edge."
IFL TV
While Haye still had plenty of power behind his punches, the lack of speed in his hands meant he was unable to score the shots he once would have against Bellew. In his prime, Bellew would have been an easy target for Haye that most likely would have ended with a knockout. However, after years of injuries and living well, Haye's skills were lagging.
Speaking on the May 5th fight, Haye said,
"But, deep down, I know my effort on May 5, 2018 was the very best I had left to give. I also know that underwhelming effort revealed the truth about my current abilities in a world-class boxing arena."
There were some great highlights in the career David Haye built. Some of the more memorable were his wins against. The high points for Haye's career were his wins over Dereck Chisora, Enzo Maccarinelli, Nikolay Valuev and Audley Harrison. Critics believe Haye simply was not fighting enough in order to maintain the skills he developed since an early age. To keep his skills sharp, Haye needed to fight three or four times a year and in doing so may have been able to extend his career a little longer, let alone add substantial monies to his income.
While he has much success, he also had some lows. One of those was the brawl that took place during a press conference prior to his fight with Dereck Chisora. Another was his losses to Bellew, Carl Thompson and Wladimir Klitschko.
As Haye enters retirement, Haye plans to get involved in other ventures but did not get into any specifics relating to his plans. It is hoped that he will continue to be involved with the sport as a mentor to other young fighters. Whichever direction he chooses, it is a safe bet that he will hit it head on as he did with his boxing career.