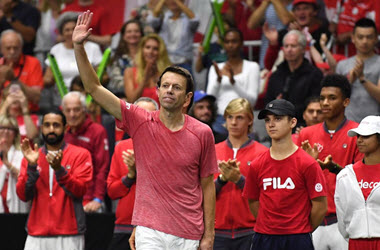 Daniel Nestor played his final match yesterday at the Davis Cup, and hoping to end his career with a win, Nestor sadly went out on a loss. Nestor and his partner, Vasek Pospisil faced off against Jean-Julien Rojer and Matwe Middelkoop. The Canadian duo lost to Julien Rojer and Middelkoop in four sets, a loss that saw Canada dropping to a 2-1 lead.
Nestor, who is 46, has competed for twenty-five years on the international tennis circuit and has participated in fifty-three Davis Cup ties. His record is double that of any other Canadian tennis player. Nestor, who was upset over the loss, spoke with the media saying,
"I wanted to play one more season and this match was one of the most important of the year for me and, obviously, I wanted to play better. I prepared pretty well for it and I was playing well in practice, but my level's just not good enough anymore."
The Dutch outplayed Daniel Nestor and Pospisil 6-3, 3-6, 4-6, 4-6 at Exhibition Place in Toronto, Nestor's hometown. The Coca-Cola Coliseum was packed with an enthusiastic crowd who were in attendance to support the Canadian duo.
For Nestor, he was pleased to learn that the Davis Cup would be held in Toronto and was looking forward to it. He added,
"I wanted to win this match. The other tournaments I went to, playing these events one last time was fun, having my family with me, but this match was important for me, but I'm just not good enough anymore."
"I can see Daniel waving goodbye" – @eltonofficial

Happy retirement 🇨🇦 @danielnestor! #NestorForever 👋 pic.twitter.com/V2exGnH2QA

— Davis Cup (@DavisCup) September 15, 2018
Canada's Denis Shapovalov and Milos Raonic booth earned wins on Friday night in the first and second singles match. Raonic defeated Thiemo de Bakker and Shapovalov took the win against Robin Haase.
The two will now flip with Shapovalov playing Thiemo de Bakker if needed and Raonic playing Robin Haase. Canada's captain, Frank Dancevic, mentioned that Raonic had short three-set victory however Haase fought hard going five–sets in his match against Shapovalov. He added,
"We're in a good position, the guys gave their hearts out there today and we ended up going down, but that's the nature of Davis Cup competition. It's good, it's an advantage for us. We're going to go out there and get the business done."
Those in attendance at the Coca-Cola Coliseum were decked out in red and white, many waved Canadian flags and banged on drums when play was stopped. The crowds were more sedated on Friday night after being warned by the chair umpire with the threat of ejection.
After the match came to an end, Nestor spoke to the crowds on hand thanking them for coming out and showing their support over the last twenty-five years. Nestor will be inducted into the tennis hall of fame on Sunday before Haase and Raonic play.
Pospisil and Nestor are good friends, and Raonic is sad to see him retire saying that,
"I consider him one of my really good friends, so it's tough to see him go. Honestly, it was an honour to be on the court with him. I really wanted to win this with him in his last match. It's been a pretty fun ride playing with Daniel over the years and I'll be sad to see him go."
The skills Nestor possessed made him a valuable commodity for Canada over the last twenty-five years. It was almost a guarantee they would win on the second day of the Davis Cup. In his career, Nestor has a record of 33 wins to 13 doubles losses and in singles, he has won 15 against 5 losses at the Davis Cup.
He also won Grand Slam titles eight times in his career on the ATP Tour career. While he had multiple partners of the years, Nestor won gold for Canada at the Sydney Olympics in 2000 and finished fourth at the Rio Games with Pospisil.
Those who are following the Davis Cup and wish to place bets on the day three final can do so with one of our recommended Canadian tennis betting sites such as Bodog, a leading sportsbook in Canada. Registering today will find you enjoying a sign-up bonus up to $200. Why wait, register today