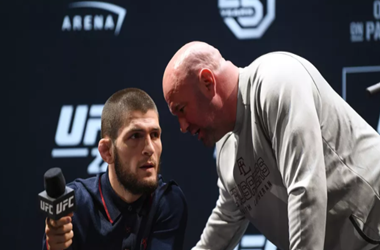 Less than three months after announcing his retirement, it has been reported that Dana White and Khabib Nurmagomedov are expected to meet for talks in Abu Dhabi this week about the undefeated lightweight champion returning to the Octagon for one more fight.
While Nurmagomedov has said he will not fight again, he remains the UFC's undisputed champion. However, White believes Nurmagomedov will once again return to the Octagon, but that at the moment, there are no concrete plans for his return. While addressing the upcoming talks to ESPN last week, White stated that he would have a better understanding of things next week, adding:
"I'm obviously meeting with him because I think that he should fight again. Look at what he did to Justin Gaethje [in October]. Look at what he's done to every opponent he has faced. I think he should fight again and I'm going to press him as hard as I can for one more."
At 32, the mixed martial arts world was shocked when Khabib Nurmagomedov announced his retirement from the sport after defending his title for against Justin Gaethje during UFC 254. After his father passed away from the coronavirus and heart complications, Nurmagomedov promised his mother that he would end his fighting career.
ESPN MMA
For his part, Dana While being a fan has said he would like to see Nurmagomedov fight another ten, but that his hope at the moment is to get him back in the Octagon for one. With UFC 257 on the horizon, the UFC is in the midst of promoting the fight, which is being held on Fight Island in Abu Dhabi, between Dustin Poirier and Conor McGregor.
In the event that Conor McGregor wins, White has been open in his desire to see McGregor and Nurmagomedov fight it out in a rematch. The last time the two met in October 2018, McGregor lost via submission. Commenting, White stated,
"As a promoter, you always want to see the best guys in the world, but at the same time, when a guy wants to retire, he probably should. The difference with a guy like Khabib is he's been through so much, and losing his dad was a major blow to him. Yet, his dad wanted him to hit 30-0."
White added that regardless of what people think about Connor McGregor, he is one of the best to enter the Octagon. White further added,
And right now, he's as focused as he's ever been. I don't know if this is going to be the same Conor after the Poirier fight, but if this Conor sticks around for the next year, how do you not do Khabib vs. Conor again?"
The big question that remains is whether White is able to convince Nurmagomedov to return for another fight. White has stated that McGregor has agreed to fight Nurmagomedov should he succeed in his bout against Poirier on the 23rd.
In other UFC news, it was announced that the fans would be allowed to attend the first three UFC events in 2021. This will be the first time since March 7th that fans will be able to attend an event. It has been discussed by the Abu Dhabi Department of Culture and Tourism about granting permission for fans to attend events in September and October, but those plans were unable to be solidified in time.
However, the events on the 16th, 20th and 23rd in Dubai are expected to include fans, how many has yet to be announced. As for punters hoping to place bets on the upcoming events, one of the bests options is Speads.ca, a Canadian friendly sportsbook. With a welcome bonus of up to $500, it is a prime opportunity to maximize potential returns.
The upcoming events in Abu Dhabi will be the third time the UFC has staged events in Dubai since July 2020. This included four events in July and five each in September and October, all of which were sold out, as are the upcoming fights. At the moment, a maximum capacity of 2,000 has been approved, and for Dana White, he is looking forward to the start of the new year stating:
"I'm pumped to start the year with a straight week of great fights — Saturday, Wednesday and Sunday – for fight fans all over the world with FIGHT ISLAND Triple Header. Following two highly-successful editions of UFC Fight Island and the recent Formula One Etihad Airways Abu Dhabi Grand Prix, Abu Dhabi has repeatedly demonstrated its ability to host major international events in a safe and secure environment this year."