Damar Hamlin Recovering After Cardiac Arrest On Field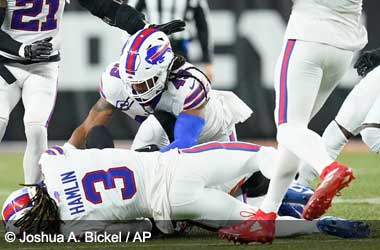 Summary
Damar Hamlin fell unconscious after suffering a cardiac arrest while playing in the NFL
Hamlin has come out of a coma and his neurological functions seem good
NFL receives flak for not wanting to stop the game after Hamlin's cardiac arrest
The Monday night NFL game on Jan 2 between the Buffalo Bills and Cincinnati Bengals at the Paycor Stadium is a game that both teams and millions of NFL fans will not forget. 
During the first quarter, Damar Hamlin who is a defensive back for the Bills tackled Tee Higgins who is a wide receiver for the Bengals. This wasn't a massive tackle by NFL standards but it literally put Hamlin's lights out as he got up from the tackle and then fell unconscious to the ground.
Damar Hamlin Asks Doctors Did We Win?
Hamlin collapsed because he suffered a cardiac arrest and was attended to by medical staff who tried to resuscitate him. The 24 year old was rushed to the University of Cincinnati Medical Center and placed in critical care. NFL fans were concerned over the last 48 hours as Hamlin remained in a coma and showed no signs of recovery.
Hamlin came out of his coma on 05 Jan and doctors said the first thing he asked the doctor was "Did we win" to which the doctor replied, "yes you did win – you won the game of life!" The doctors confirm that based on his responses it looks like he does have full control of his neurological functions which is a good thing but they say that there is still a long way for Hamlin to go and be cleared. 
Hamlin still remains on a ventilator but is able to communicate with medical staff by writing. The doctors said that the quick response by the medical staff who took less than a minute to start resuscitating Hamlin played a major role in saving his life.
NFL Gets Flak For Wanting To Resume Match
The NFL has received flak for wanting to resume the Buffalo Bills vs. Cincinnati Bengals game once Hamlin was taken off the field.
However, players from both sides were devastated to see Hamlin go down and were seen kneeling on the field and praying for Hamlin. Both teams along with the NFL Players Association (NFLPA) decided to call off the game!