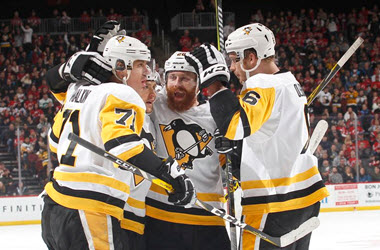 The Pittsburgh Penguins welcomed Sydney Crosby back last night after the captain was out with an injury to the upper body For the Dallas Stars, his return was unwelcomed and saw the star centre score one goal and earn two assists to help the Penguins win 5-1 Wednesday night.
Crosby has missed the last three games after being hurt playing against the New Jersey Devils on the 15th of November. It was anticipated he would be out for a week and is yet another setback for the star forward.
However, his return gave Pittsburgh the boost they needed, and it took only four minutes for him to make it happen. Jake Guentzel was in position four minutes into the first period when Crosby sent a pass to Guentzel who capitalised the play and scored Pittsburgh first goal. It didn't take long for Crosby to add one of his own after rushing the net and slapped one past Anton Khudobin to give Pittsburgh a 3-0 lead as the first period came to a close.
Also scoring in the first period for the Pittsburgh Pengiuns at 13.55 was Evgeni Malkin. Tanner Pearson and Patric Hornqvist each scored one and earning assists were Crosby with two and Jake Guentzel, Patric Hornqvist, Dereck Grant, Phil Kessel, Kris Letang, Oli Maata and Jamie Oleksiak each with one.
After a sloppy loss to the Buffalo Sabres, it seems the Penguins and the return of their captain got their act together against Dallas, who hardly challenged Casey DeSmith, who with 18 saves only allowed one goal, but it was enough to deny him a shutout.
Dallas pulled Anton Khudobin in the second period after Pittsburgh scored their fifth goal. Khudobin managed to stop just eleven of sixteen shots, and to make matters worse for Khudobin, Rookie goaltender Landon Bow stopped all fourteen shots he faced.
Sportsnet
The start of this season has seen Pittsburgh struggle and began the day sitting in last place of the Eastern Conference, a territory that is unfamiliar to the Penguins, let alone their fans Pittsburgh's defence has been, at best, shaky and its goaltending hasn't fared any better. Prior to the game, coach Mike Sullivan stressed the importance of patience but reiterated that their style of play would not change.
What did make the difference, at least at the beginning was having Crosby back in the lineup, it seemed to energise the Penguins, and it was reminiscent of old times. He was instrumental in Guentzel goal, and after Malkin's wrist shot made it 2-0, Crosby added another to make it 3-0. Considering Dallas has only seen first period goals ten times this season, the destruction Pittsburgh left in their wake was one that will give the Stars something to think about.
Time and time again, Dallas was denied by Pittsburgh defence, and Casey DeSmith was in the zone estopping all but one of the 18 shots he faced. Pittsburgh next face the Boston Bruins, a team sitting in fourth place of the Atlantic division, of which is valuable information for punters wishing to place bets on upcoming games. One Canadian friendly sports betting site worth considering is Bodog, and with signup bonuses and repeat promotions on deck, it is an ideal time to register and join in on the action.