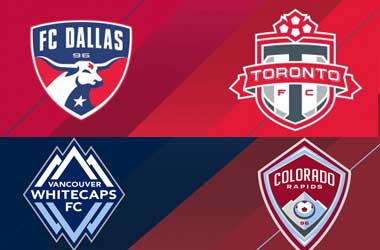 Two midtable sides from either conferences will lock horns with each other on Sunday, as Toronto FC will travel to Dallas to face them at the Toyota Stadium, while Vancouver will host Colorado at the BC Place at their home.
The Whitecaps are currently only three points above their Sunday's opponents and will have a chance to go up into the top seven of the Western conference.
Toronto whereas, are currently seventh in the eastern conference with 19 points in the bag and their Sunday's opponents are fifth in the western conference with as many as 22 points- 15 points away from table-topping LAFC.
Toronto come into the game at the back of a two-week break after having played their last game on the 7th of June against Kansas City. Before that, the Canadian side were on a winless run of as many as seven games as their last win had come on the 4th of May.
Dallas, on the other hand, are on a run of busy games themselves. Their game on Wednesday in the US Open Cup saw them get dumped out of the competition following a defeat against New Mexico United. Before that, they had managed to beat Oklahoma Energy 4-0 in the first Round of the US Open Cup.
Dallas ended their six-game winless run in a win over Seatle Sounders and have found some form since then.
Alejandro Pozuelo has been a key figure for Toronto so far this season and has missed only a couple of games since joining this past March. He has racked up the Team of the Week honors three times so far this season and the 27-year-old has scored five times this season, assisting five times.
The last two games between the two sides has seen Dallas win both the games, winning 1-0 the last time and picking up all three points in a 3-1 win before that.
Vancouver's opponents Colorado though, have been very good every since they sacked their former manager Anthony Hudson in April. They have won four of their last five games in the league since then, rising up in the table.
Former Whitecaps player Nico Mezquida has scored three goals in that period and so has Kei Kamara.
The last time the Whitecaps played was three weeks ago and it was a 1-1 draw against fellow Canadian side Toronto and they'll hope to get the second half of the season off to a good start.
But they will be limited in their selection due to the international call-ups in the side. Maxime Crépeau, Doneil Henry, Derek Cornelius and Russell Teibert are all at the Gold Cup for the Canadian national team and they will be without all three.
While the campaign has been a disappointing one so far for them, they still have every chance of making it to the play-offs because the teams in the league are still very closely packed. A good result can see them go above multiple teams and call themselves potential play-off contenders.