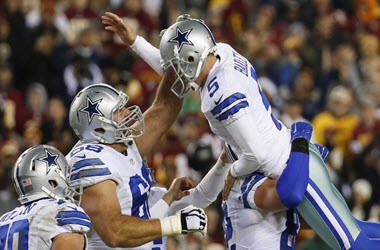 The Dallas Cowboys have earned their way back and are now tied for first with the Washington Redskins in the race for the NFC East.
Amari Cooper had plenty to celebrate when he sat down for Thanksgiving dinner after scoring two touchdowns to help the Dallas Cowboys 32-23 over the Reskins on Thursday. His first TD saw the receiver running 90 yards and began the Cowboys chase to sit atop the NFC Division with Washington, an achievement many were unsure would come.
Ezekiel Elliott also has solid performance running 121 yards. Thursdays win gave Dallas their third straight since losing at home to Tennessee and their eighth win in the last nine games against the Washington Redskins, and for the second in three years, are in a split season.
Dallas quarterback, Dak Prescott commented the everyone jumped off the bandwagon adding that,
" You expect that. I can tell you who didn't doubt ourselves. As long as we locked arms, we stayed tight, we knew we could do this, and we can do more. That's the only thing that matters to us."
The loss to Dallas was the third in a row for Washington, who sat atop the NFC East but have struggled in their last four games and was the first start for Colt McCoy after Alex Smith suffered a season-ending injury to his leg.
FOX Sports
McCoy, a former Texas Longhorn threw two touchdown passes, but these were overshadowed by the multiple interceptions. McCoy has won his two previous starts against Dallas, one in 2009, and another in 2014, but failed to get it right this time.
McCoy said he was encouraged by the short week adding,
" Losing overshadows everything. But I'll go back and watch it and try to clean up some of my mistakes that are going to help our team win."
Amari Cooper ran 105 years in his two touchdowns. The first of those saw him running from Quinton Dunbar after Dunbar slipped a short pass to give Dallas a 17-13 lead. After, Copper mimicked a free throw in celebration sending the ball through the goal posts.
Coopers 90 yard TD was even more impressive after making the catch outside Washington's 30 yard line after the ball fell from Fabian Moreau's arms. Cooper went on a full throttle run outrunning his former teammate, Ha Ha Clinton-Dix.
It was Cooper's longest catch in his football career, and it was also Dak Prescott's longest completion. Cooper, in post-game interviews, said,
"I've been putting in extra time with my coaches, with Dak. For some reason, since I've been here, the chemistry with Dak has phenomenal."
When Colt McCoy took to the field, he appeared unready and threw double coverage on the first play then fumbled on his third in what saw Washington recovering and then having to punt. However, as the first half went on, McCoy seemed to settle in and completed several third down passes and a 53 yard touchdown pass to Vernon Davis, which was the longest completion so far for the Redskins this season.
The Cowboys wasted little time going on the attack and having fun after Ezekiel Elliott scored and made a donation to the large Salvation Army kettle in the end zone, which was meant as a joke after Elliot was suspended last year for unsportsmanlike conduct and fined $21,000 in the form of a donation to the Salvation Army.
Speaking on the donation by Elliot after his TD, Prescott commented that,
"I didn't have any plans to do that. Zeke did, He showed his strength. Once he had me in the air, I said I've got to own it now and just figured I'd jump in there before I got hurt."
The Dallas Cowboys will next face at New Orleans Saints on Thursday, November 29th, and if successful could move into first position in the NFC East, that is if Washington lose their game against the Philadelphia Eagles on the 3rd of December. Punters looking for NFL action will our recommended sportsbook, Betway Sports offering generous signup bonuses for new punters. To complement the signup bonus, regular weekly promotions are in place and designed to increase your bankroll and chances of winning. Register today and experience the Betway way.