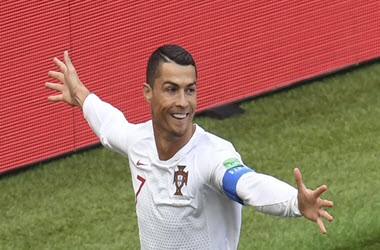 Portugal came out on top against Morocco after Cristiano Ronaldo showed the world why he one of the sports greats scoring the winning and only goal to give Portugal a 1-0 victory. After a draw against Spain,  this was the win Portugal needed most.
Ronaldo was in the right place at the right time as a corner kick pass saw the ball sent into the pack as Ronaldo fired a blistering header into the net past El Kajoui to give Portugal its only goal and a 1-0 lead.
For Ronaldo, his legacy was set after scoring his 85th goal for Portugal, a feat no other European player has achieved in the history of International soccer. After scoring the winning goal, Cristiano pointed to his chest and leapt towards the corner flag as he always does.
After learning he received the "Man of the Match" award, Ronaldo said, "It was beautiful for me." This was his second straight Man of the Match award; the other came after he scored all three of Portugal's goals against Spain.
Ronaldo now sits in second place as the all-time scorer after surpassing Ferenc Puskas, however, has a long way to go to enter the history books at the top all-time scorer and exceed Iran's Ali Daei's 109 goals.
After being asked about Cristiano, Fernando Santos, the coach for Portugal said,
"He has a great coach, He's like a port wine. He knows how to refine his capacity and age at his best."
Yesterday's goal did more than just push Ronaldo into the history books yet again, it put him on top of the chart for individual scorers at the 2018 World Cup. After scoring a hat-trick in the game against Spain, Ronaldo now has four goals so far in the tournament, and if the last two games were any indication, he is just getting started.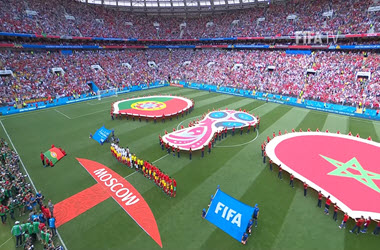 His skill was simply too good for Morocco's defender, Manuel Da Costa as he found the space he needed and beat Morocco's goaltender. Portugal had two other free kick opportunities, both of which were from under twenty yards, but both were met by a wall of Moroccan defenders.
The match saw a total of forty-two fouls, and Portugal managed only two shots on goal. The best play came at the hands of Morocco, but for all their efforts, they were unable to capitalise on those opportunities. They had multiple scoring opportunities, three of which came within five minutes in the second half. Portugal's Rui Patricio thwarted each of those opportunities.
Sadly for Morocco, they have no chance to advance after suffering two losses back-to-back. For Moroccan coach, Herve Renard, he commented that,
"Those who know how to be in the penalty box and know how to make plays are the ones who make all the difference."
Portugal will now play Iran on Monday before advancing to the next stage. As for Morocco, they next play Spain but will not advance due to their first two losses. As the group stage is getting ready to start, many bookmakers such as Bodog, a favourite with Canadian punters, are offering generous sign-up bonuses and special World Cup promotions. New players to Bodog will be entitled up to $200 in free bonuses along with World Cup freeroll. Register today and take advantage of this offer while it is still available.