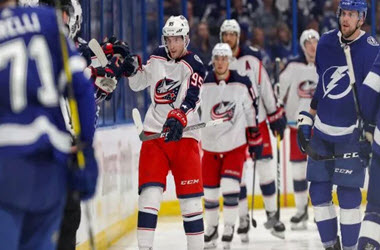 The Columbus Blue Jackets are showing their worth in their big to put away the regular season team, and so far, they are doing a good job leading the series 2-0, and if successful in Game 3 on Sunday, Tampa will face a steep battle to become relevant in the series.
Matt Duchene had three assists on a night that saw him score one goal. Artemi Panarin also scored as did Zack Werenski, Cam Atkinson and Ryan Nash. Panarin, Werenski, Oliver Bjorkstrand and Boone Jenner earned assists, while Sergei Bobrovsky stopped 23 shots.
The series is now two games down, and with two more wins for the Blue Jackets, it will be over. Commenting on the possibility, Matt Duchene said,
"It's half the wins that we need. We're keeping our heads down and our eyes on the prize."
The Columbus Blue Jackets have faced this exact situation before in last year's playoffs after going up two games in their series against the Washington Capitals, who went on to win the Stanley Cup. Tampa Bay's Mikhail Sergachev scored their only goal, Andrei Vasilevskiy stopped 22 shots and gave up five.
Jon Cooper, coach of the Tampa Bay Lightning, in commenting on the difference between the playoffs and regular season said,
"The regular season is different than the playoffs. Things just happen so fast. Alarms are going off. This is a five-alarm fire. But it's adversity and sometimes that's good that you have to go through stuff like this to see how we respond. One thing I do know about being with this group is, they find a way."
Sportsnet
Nikita Kucherov was again scoreless last night's game due to picking up a ten minute misconduct in the third period for tripping and boarding. It is expected that Kucherov will be called to the NHL disciplinary committee to answer for his hit on Columbus's Markus Nutivaara. Asked to give his thoughts on the hit, Blue Jacket coach John Tortorella said,
"I'm not going to give you any thoughts on it. It's self-explanatory."
Columbus managed to come back from a three goal deficit in Game 1 of the series to win 4-3 on Wednesday night. The win came with a power play goal by Seth Jones, and when asked if he is surprised by the 2-0 lead, coach Tortorella said,
"No, and I'm serious about that. I think we're a good team. We've gone through a lot as a team. If we're going to be successful as a team, we have to play as a team. So, even when we were down 3-0, I don't think we got away as far as how we have to play."
Matt Duchene was instrumental in the first period for each of the goals scored by Columbus and earned assists on both. He also was the one to put them ahead 3-0 after scoring on a power play. The Blue Jackets were 28th in power plays in the league during the regular season and are three for six overall in the playoffs.
Tampa for its part, known for their power play success has failed in all of the five opportunities they have had in the first two games. For punters betting on the series with the likes of Bodog, a Canadian favoured online sportsbook, that is good information to consider when placing bets in Game 3. While Tampa managed to reduce the lead by Columbus by one in the third, they failed to make much headway, and clearly, seem to be struggling to find their groove. Whether that continues in Game 3, time will tell.