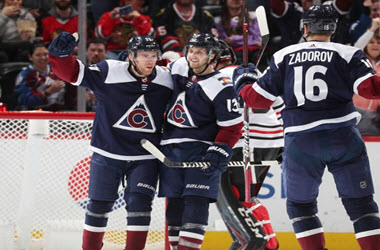 The Chicago Blackhawks rolled into Denver on Saturday looking for a win as they in the middle of a late push hoping to earn a place in the post-season. However, the Avalanche were having none of it, even if slightly challenged due to injuries.
The night proved to be a positive one for forward Colin Wilson, who scored one goal, his first in over a month, and assisted on another. Sven Andrighetto and Derick Brassard also scored, and Alexander Kerfoot, Samuel Girard, Erick Johnson and Patrick Nemeth earned assists. Philipp Grubauer made 29 saves and helped lead the Avalanche to a 4-2 victory over the Blackhawks.
Erik Gustafsson and Jonathon Toews scored for Chicago. Corey Crawford made 24 saves, and Patrick Kane, Duncan Keith, Brandon Saad and Dylan Sikura earned assists. With only seven games remaining in the regular season, the Colorado Avalanche are in the hunt for a wild card spot in the Western Conference. They began the night only a single point behind the Minnesota Wild for the final spot, and the urgency wasn't lost on Wilson, who commented that,
"Big two points. It had a playoff atmosphere to it."
Colorado is dealing with a number of its key forwards on the injured list including Mikko Rantanen, who is out with an injury to the upper body. Gabriel Landeskog is also out of commission with an injury to the upper-body.
Sportsnet
Goalie Philipp Grubauer played a key role in the Avalanche's success last continuing to be on top of his game last night. The recent result saw Grubauer in the starting position last night and was met with chants from the crowd throughout the game. The loss to Colorado did not help the Chicago Blackhawks as they push to survive and now behind Colorado by six points. Commenting on the remaining games, Duncan Keith, who plays defence for Chicago said,
"From here on in, every game is a must-win. We have to have our best game of the year going forward."
On Sunday, Colorado and Chicago will again play each other in back-to-back games. For both, it will be a crucial game. Colorado managed to take extend their 2-1 lead early in the third with a goal by Sven Andrighetto. The goal was challenged by Chicago, but on video replay, it was confirmed. Commenting, Chicago goalie Corey Crawford said,
"We played pretty solid for the most part. It's still not good enough. We've got to bring a little bit more."
The Blackhawks managed to generate some hope after Erik Gustafsson scoring to make it 3-2 with twelve minutes remaining. However, in an attempt to tie, Chicago pulled Crawford and that resulted in an empty net goal by Brassard. The early lead by Colorado during the second period could be a sign of what is to come from the Avalanche based on recent aggressions around the net. That was noticed by Chicago's coach Jeremy Colliton, who commented that,
"It's hard to score those goals because you have to pay a price to be there but it's easy because everyone can do it. They got a couple that way. We didn't generate enough offensively. So that's frustrating."
The Chicago Blackhawks and Colorado Avalanche will meet again as part of a two game series on Sunday before Chicago heads to Arizona to meet the Coyotes. The Avalanche will then have a two day break before welcoming the Vegas Knights on Wednesday.