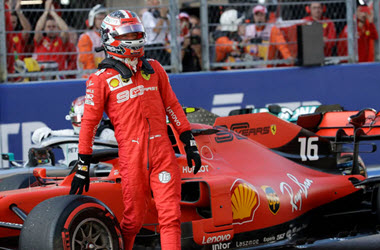 Ferrari's Charles Leclerc drove to his fourth back-to-back pole position during qualifying on Saturday at the Russian Grand Prix at the Sochi Autodrome. Point leader Lewis Hamilton, who admitted this week that Mercedes would struggle to keep pace with Ferrari for the remainder of the season was second.
Hamilton was almost a half-second slower than Charles Leclerc but fast enough to finish ahead of Leclerc's teammate, and winner of last week's race in Singapore, Sebastian Vettel. Hamilton has failed to win a race since the break but is hoping to dominate in Russia as they have in its previous five races.
The British driver is ahead of his teammate Valtteri Bottas by 65 points and 96 points ahead of Leclerc. With six races remaining and a possible 156 points up for grabs, Hamilton needs only to finish in the top 5 to fend of Leclerc, who will have a tough time to shorten the gap enough to earn his first drivers' championship. That is good news for Hamilton fans who wish to put their money behind who is arguably one the sports best drivers with sportsbooks such as Spin Sports, a bookmaker offering up to $200 in new punter bonuses.
Vettel, who won his first race in 13 months last week managed to finish ahead of Max Verstappen at the Sochi Autodrome after he was accessed a grid penalty for making changes to his engine. After a slow start to the season, Ferrari has now become the team to beat and is hoping to earn its fourth back-to-back constructors victory.
Two drivers

Four consecutive poles for @ScuderiaFerrari – 19 years apart 👀 💪#RussianGP 🇷🇺 #F1 @Charles_Leclerc pic.twitter.com/ogeTKzrMSY

— Formula 1 (@F1) September 28, 2019
Leclerc continues to turn heads and once again out drover his teammate Vettel for the 10th time straight, who was 4/10th slower than Leclerc. Commenting on earning pole, the first to accomplish the task since Michael Schumacher, Leclerc said,
"It definitely feels great to be back on pole."
Lewis Hamilton, who dominated the podium in the first half of the season has failed to earn pole position since July at the German Grand Prix, seems pleased to share the stage with Ferrari in the final races. Speaking on his qualifying session, Hamilton said,
"I gave it everything I could in the end and I am so glad it came together. I wasn't expecting to be on the front row so I am really happy."
Valtteri Bottas, who placed fifth in qualifying will sit on the second row with Hamilton after the penalty that was assessed against Max Verstappen. McLaren, on Saturday, announced it will use a Mercedes engine in 2021 bringing an end to its relationship with Renault. It was stated that the agreement will run at least until 2024.