Kelly Becomes Highest Paid Player In The CFL With The Argos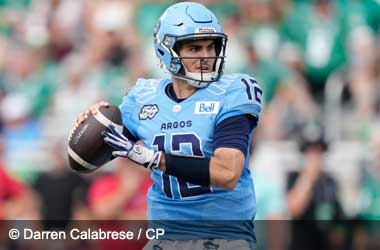 Summary
Chad Kelly signed a 3 year extension with the Toronto Argonauts
The new $1.865-million contract makes Kelly the highest paid CFL player
Kelly also happy to do community service on behalf of the Toronto Argonauts
It's been a monumental week for Chad Kelly after he ended up signing a 3 year extension with the Toronto Argonauts. Chris Lambiris acting as Kelly's agent helped him negotiate a deal with the Argos for $1.865-million.
New Deal With The Toronto Argonauts
Prior to this deal, the highest paid player in the Canadian Football League (CFL) was Zach Collaros who plays as a quarterback for Winnipeg and picked up $600,000 in the 2023 season. Kelly has now passed Collaros to become the highest paid CFL player with his new contract.
The Argos was happy to pay big money to retain Kelly after he helped them secure the number one spot in the East Division ranking with an 8-1 record. Kelly currently has the top spot with 6 rushing touchdowns and a 118.7 quarterback rating.  
In a statement, Argos GM Mike Clemons said
When we talk about the importance of this signing it cannot be disguised by any other thing than this guys is just exciting, he's fun to watch. It's must-watch TV every time he gets out there. For us, this was an important step in sort of saying, 'Hey, listen, we're going to try to be competitive every year. 
Clemons went on to say
We want to have a chance to be a playoff team and win the Grey Cup on a yearly basis, that's what our goal is.' It's our hope that not only is he going to be here, he's going to attract those same kind of people to come here and play with our team.
Kelly Will Help Argonauts With Community Service
Kelly said he was very happy to sign with the Argos and extend his contract as he wanted to show the fans that he was committed to staying and being with the team on a long term basis. He is also taking part in community services activities on behalf of the Argos.
In a statement, Kelly said
I remember when I was a kid being able to just be around or see a professional athlete was an eye-opener and, honestly, was a dream come true. Now, this is my time to be able to give back to the city, the community, Toronto Argonauts fans, the city of Toronto and Ontario. Now I have the ability to give back for years to come.