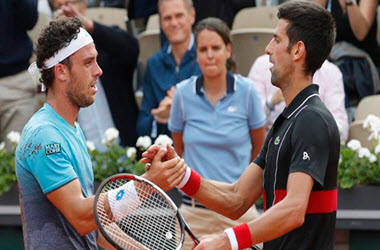 Novak Djokovic was not at his best as he faced Italy's Marco Cecchinato. At each crucial point in the French Open quarterfinals, he seemed to falter. First, it was his neck, then his leg. The end result was seeing Marco Cecchinato advancing after defeating Djokovic in four sets.
Marco Cecchinato has yet to win a Grand Slam title but dominated the quarterfinals on Tuesday night. Cecchinato won the first two sets 6-3 and 7-6, and in set 3, it seemed Djokovic has found his place after winning all but one match. However, Cecchinato returned strong in the fourth set to win 7-6 and advance to the semi-finals where he will face Dominic Thiem.
Novak Djokovic, who is uncertain as to if he will play at Wimbledon this year said,
"He held his nerves amazingly well in important moments."
Djokovic, who began serving in the fourth set was unable to capitalise on the opportunities that he had in the match. He had three set point tiebreakers but failed to convert them to his advantage. Cecchinato, on the other hand, did and earned his fourth match point with a backhand. Celebrating the win, Cecchinato fell to the court in celebration. He is the lowest ranked player to enter the semi-finals and was not expected to advance this far in the tournament.
Roland Garros
Cecchinato, who hails from Sicily, was involved in some controversy in 2016 due to accusations he lost on purpose during a Challenger event in Monaco. The governing federation levied a $45,000 fine against Cecchinato. However, the Italian Olympic Committee overturned the sanctions on a technicality.
Cecchinato, who has a career record of 4-23 and is 0-4 at a major event, came into the French Open with few expecting him to generate results. He succeeded in defeating the #8 seeded David Goffin and then defeated #10 seeded Pablo Carreno Busta. He now will face #7 seeded Dominic Thiem, who will play his third back-to-back French Open semi-final after he defeated Germany's Alexander Zverev.
Djokovic and Cecchinato are well known to each other and have practised many times together at a tennis academy in Monte Carlo. The biggest shock in the match was Djokovic's inability to close the fourth set and seeing a fifth set being forced.
Djokovic, who owns a home in Monte Carlo, has faced a number of health-related problems in the last year. It saw the star player missing almost half of 2017 due to problems with his elbow. After surgery in February of this year, it is clear he has yet to regain his strength and now sits seeded at 20, which is the lowest he has been in over 10 years.
French Open Women Quarterfinals
In women's quarterfinal action, Russia's #14 seeded Daria Kasatkina lost in two sets to American and #10 seeded Sloane Stephens. Kazakhstan's Yulia Putintseva lost to Madison Keys, who is seeded 13th. Keys lost to Stephens at the U.S Open in 2016, and the two will once again face each other in what will be the first semi-final at the French Open where both women are American since 2002.
The date for the semi-final between Sloan and Keys has not yet been announced, nor has the semi-final match between Simona Halep and Garbine Muguruza. How tennis betting sites will set odds on who will advance to the finals of the French Open have yet to be announced, but considering Cecchinato was low on the radar, it is sure to have turned some heads.