Carreno Busta Defeats Hurkacz - Wins National Bank Open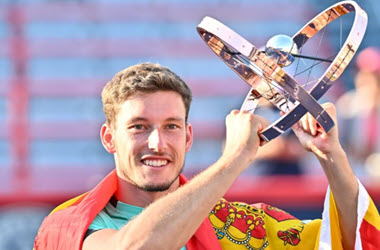 After a week of beating the odds, Pablo Carreno Busta overcame a slow start to Sunday's finals at the 2022 National Bank Open and walked away with a victory in the men's singles final after beating Hubert Hurkacz in three sets.
The 3-6, 6-3, 6-3 win for Carreno Busta, who was unseeded heading into the 2022 National Bank Open, was his first at a Masters 1000 event and is one the Spaniard is sure to cherish.
"It's an amazing feeling, I worked very, very hard (throughout) my career to finally be here."
Throughout the tournament, Carreno Busta was making shots and playing consistently, which was a game-changer in the final. That consistency was felt by Hurkacz after double-faulting and missing three forehands gave Busta a 2-0 lead in the third set.
Carreno Busta also caught a break after forcing an early break, and while Herbert Hurkacz scored more aces (18-4), the Spaniard was aggressive with his second serve during the last match, and that closed out the third set 6-3 and brought an end to Hukacz's tournament.
"It's the little things that make a big difference," said Hurkacz s "If you don't make your first serves and with Pablo making some good returns, then you're under a lot of pressure."
While the win was Carreno Busta's first ATP Masters win, it was also the first that an unseeded player has won this tournament since Argentinean Guillermo Canas won in 2002.
"It's not the first one, but it's for sure the most important," said Carreno Busta. It's a Masters 1000. It's something great to win these kind of titles."
With over 11,700 in attendance at the IGA Stadium, the crowds were treated to one of the tournament's best rallies, one that went to Carreno Busta after a number of groundstrokes that saw the Spaniard rushing the net and sending a deep shot that Hurkacz returned to the back corner.
Carreno Busta managed to chase down the shot and hit a floater over the head of Hurkacz that ended up just inside the line. Another rally between the two came after Carreno Busta returned to the net and dropped a shot that Hurkacz had to lunge for, but that was blocked with a jumping backhand response by Carreno Busta.
The resulting rally and moves by the Spaniard saw him extending his arms in gratitude as the crowds rose and gave him a standing ovation.
"I think it was an incredible point," said Carreno Busta. It's just one point, but it was very, very good for the confidence."
It seemed everything went right for Carreno Busta right from the start of the tournament. That began with the Spaniard eliminating no. 11 seeded Matteo Berrettini during the first round. He then went on to eliminate no.7 seeded Jannik Sinner in the third round, and it wasn't until the semifinals before Carreno Busta lost a set against the UK's Daniel Evans.
"My game during the week was very, very high," said Carreno Busta. I played really (well) from the first match against Berrettini until the last one against Hubie."
Hurkacz also was on his game, and none of the opponents he faced were able to match his powerful serves. That saw Hurkacz scoring more aces than every one of his opponents, and while he continued that record in the final, it wasn't enough to outsmart or play Carreno Busta.
Even with Hurkacz's powerful serve, Carreno Busta's placement and volleys were effective and enough to earn his a US$915,295 payday for winning the final. In other National Bank Open news, the doubles final saw the Netherland's Wesley Koolhof and the UK's Neal Skupski defeat Australia's John and Evan Peers 6-2, 4-6, 10-6.
Adding to the success of the tournament, organizers said that this years event surpassed 2019 attendance records. It was the first year since the pandemic that the event was allowed to have full capacity.
Next year, the National Bank Open will be held in Toronto, while the women's event will see it returning to Montreal. In the meantime, bettors looking to punt on upcoming ATP or WTA events will find Canada's premier sports betting sites offering excellent betting odds and a nice selection of bankroll-enhancing promotions.