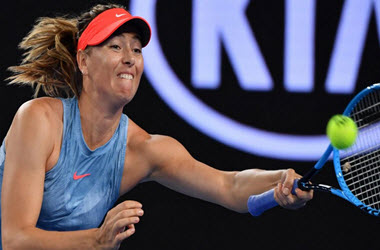 With the Australian Open well under way, Maria Sharapova prepared herself to play Caroline Wozniacki, the defending champion. Sharapova defeated Rebecca Peterson in second round action to earn her place in the third round.
Sharapova, ranked 30th, sent a blistering forehand shot that she is known for when facing key moments in a match. That shot put her in control against Wozniacki. The result was a burst of emotion as Sharapova realised how close she was to defeating the No. 3 Wozniacki.
It was proof that Sharapova is once again Grand Slam material, and she cemented that after eliminating Caroline Wozniacki 6-4, 4-6, 6-3 in just over two and a half hours on Friday. She did it with strong groundstrokes and effective forehands. In post-match interviews, Sharapova said,
I haven't played many matches in the last year, especially against top players, and these are the kinds of matches I train for."
Sharapova season last year was cut short after developing problems relating to shoulder surgery. She previously won the Australian Open in 2008 and has earned four other Grand Slam titles but has failed to make quarterfinal action since 20115.
Austrailian Open TV
At 31, she missed the 2017 Australian Open after being suspended for fifteen months due to testing positive for doping in 2016. It was the same year that Wozniacki won the prestigious Grand Slam after defeating Simona Halep. That is important information for tennis punters who are placing bets with top-rated Canadian friendly tennis sportsbooks on the upcoming quarterfinals in this years Austrialian Open.
Sharapova now advances to the fourth round and will face Australian native Ash Barty, who defeated Maria Sakkari 7-5, 6-1 on Thursday. It was her best performance to date at a major tournament. Barty, who is ranked15th, left the sport in 2014 for two years electing to play Cricket during her hiatus. Sharapova feels her story is phenomenal.
" I know she took a little break and came back and just resurged."
Sharapova was able to stay in control of the back and forth match. Wozniacki was in the lead of the third set 3-2, but Sharapova managed to gain the upper hand going up 4-3 before sending the forehand that ultimately put Wozniacki on notice that the day was not hers to celebrate.
Canada's Milos Raonic will also be advancing to the fourth round after Pierre-Hugues Herbert in back-to-back sets. It will be the 6th tine he has advanced to the final 16 at the Australian Open in his career.
Raonic, who hails from Thornhill, Ontario and ranked 17th, won the match 6-4, 6-4, 7-6. Herbert managed only to save one match point during the two hour match, one which Raonic controlled from beginning to end. He next will face Alexander Zverev after he defeated Alex Bolt 6-3,6-3,6-2.