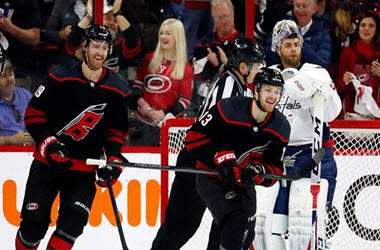 The Carolina Hurricanes may have lost forward Jordan Martinook, but took revenge by winning another game, and with a long list of forwards being called up due to key player injuries, the Hurricanes seem intent on not letting it impact progress.
Carolina welcomed the Stanley Cup defending champions on Thursday night with the series tied 2-1, but with the final seconds ticking away, it was a goal by Carolina's Teuvo Teravainen scoring with less than 30 seconds remaining that saw the Carolina Hurricanes tying the series..
William Foegele scored the opening goal seventeen seconds into the first period, and goalie Petr Mrazek stopped 30 shots, all on a night that saw Jordan Martinook exiting after suffering an injury to his knee after slamming into the boards as a result of trying to execute a hit on Dmitry Orlov. Commenting on the series, Justin Williams, captain of the Hurricanes said,
"All we've done is hold serve."
Washington's Alex Ovechkin scored its only goal during a power play, and goaltender Braden Holtby stopped 22 shots. It was the first time that Washington has lost back-to-back games since January. The Capitals saw star forward T.J. Oshie leave the game late in the third after a hard hit late in the final period by William Foegele. That saw Foegele earning a trip to the box after Oshie left the ice in pain.
Todd Reirden, coach for the Washington Capitals, was not pleased with the hit and commented that Oshie was defenceless at the time of the hit adding,
"It was a defenceless player that was quite a distance from the boards. It's an extremely dangerous play, and he will not be with our team for a while."
Sportsnet
The power play that followed gave Washington their best chance to score and tie the game, but Petr Mrazek stepped up and blocked several big shots, one by Tom Wilson, the other from Nicklas Backstrom. T.J. Oshie had just been moved to the Caps top line to join Ovechkin with the hope it would shake things up after the Game 3 loss. That failed to transpire, and for Alexander Ovechkin, it was a wake up call that saw him commenting,
"We can't hope that one guy is going to make a save or score a goal. You have to go out there and play your game. If you don't want to do it, don't play."
The series has been plagued by injuries for both teams, and it is starting to add up with Rod Brind'Amour, coach for the Hurricanes stating that they have more injuries than the Capitals do. Martinook ended up returning later in the period but didn't play long. Earlier in Game 3, the Hurricanes lost Andrei Svechnikov after a fight that saw the rookie taking a head shot from Ovechkin. They also lost Micheal Ferland to an upper body injury.
However, even with the injuries piling up, William Foegele and Teuvo Teravainen were in fine form and were exactly what was needed by the Hurricanes to get the job done. The series now moves to Washington on Saturday night for Game 6 in the series and if needed, will see Game 7 in North Carolina on Wednesday.