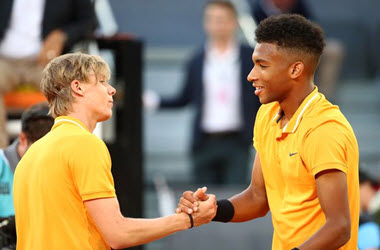 Canadian Denis Shapovalov will for the second time in a row take on Felix Auger-Aliassime in the U.S. Open first round. Auger-Aliassime from Montreal lost last year to Richmond Hill's Shapovalov after he retired as a result of being exhausted by the heat.
It was Auger-Aliassime first appearance and not a favourable on at the U.S. Open. After the extreme heat caused heart palpitations, he had to retire abruptly in the third set. While things are different now, the Canadian teen is ranked 19th and is eager to for his chance at revenge. Commenting, Auger-Aliassime said,
"Even though I wasn't able to finish it, it was still a great memory. That's a dream I had since I was a kid to play in the U.S. Open, and my family was there to witness it. So in the end I have great memories from it."
That rematch will take place on Thursday at the Arthur Ashe Stadium. However, Auger-Aliassime, who has surgery during the off-season, is not concerned about his heart, causing any problems. Speaking on the condition, Auger-Aliassime stated,
"It sounds scary but it's a pretty common procedure. There's a lot of people that have this kind of problem … I was actually back really quickly, in a few days I had recovered."
Ever wonder how the draw is made? 🤔

Take a deep behind the scenes dive with our Kid Caster! pic.twitter.com/cESTDQf5ir

— US Open Tennis (@usopen) August 23, 2019
Considering the year the teen has had, the odds are looking strong in his favour with expectations being high that sportsbooks such as Sports Interaction will favour Auger-Aliassime to advance to the second round. He has seen his rank jump from 108 to 19, which in part was the result of his making it to the semifinals at the Masters 1000 Miami tournament this past March. Commenting, on that and his ATP 500 Rio Open runner-up finish in February, Auger-Aliassime said,
"I think if you had told me last year I would be in the top 20, I wouldn't have believed you. My goal heading into the season was to be top 50 before the end of the year, but I think making that final in Brazil at the start of the season really gave me a lot of confidence and I just felt like I had the ability to beat anybody."
Auger-Aliassime has already racked up one win over Shapovalov this year while playing against each other at the Masters 1000 in Madrid. That puts the two tied with one win each in head to head matches. While Felix Auger-Aliassime took the week to prepare for the U.S. Open, Shapovalov spent his in North Carolina playing a 250-level tournament.
Heading into the Open, Auger-Aliassime is 31-18, and that has seen doors being opening for the rising Canadian tennis star, one that saw him being featured in Vogue magazine. Taken back by the interview request, Auger-Aliassime, said the experience was cool, adding,
"We did a photoshoot with an amazing photographer at a few places in London, did a few different poses. I'm sure my parents will grab a couple copies. I haven't even seen it yet. I've only seen it online."
What an honour 🙌🏽🙏🏽 https://t.co/dlK0024Nwg

— Félix AugerAliassime (@felixtennis) August 19, 2019
However, even though it has been a big year for Auger-Aliassime, he isn't the only Canadian tennis star to have a year of distinction as Mississauga's Bianca Andreescu, ranked 15th on the WTA Tour, won the Rogers Cup championship at the beginning of the month and is being hailed as one of the main draws at the U.S. Open this year, the other is Westmount, Quebec's Eugenie Bouchard. While Auger-Aliassime didn't go beyond the third round at the Rogers Cup, his run was still impressive. Speaking on Andreescu, he commented,
"What she's been doing is incredible, it's beyond incredible, I don't even have a word for it. It's inspiring for Canadian tennis."
In men's tennis, Canada's Milos Raonic, seeded 21st, will face Nicolas Jarry of Chilli, while Pickering, Ontario's Brayden Schnur will enter the first round against Benoit Paire from France. Auger-Aliassime struggled to see himself as the top seeded player in Canada but it appreciative of it stating,
"For me that means a lot. I've been watching Milos and Vasek for so long and they're such great players so for me it's an honour to be the top-ranked Canadian."