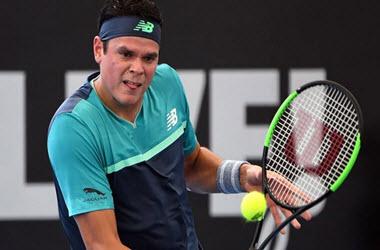 Canada's Milos Raonic met Serbia's Miomir Kecmanovic on Wednesday and needed only two sets to earn a spot in the quarterfinals on Friday. Raonic, seeded eighteenth, defeated Kecmanovic 6-3, 7-6 and will face Russia's Daniil Medvedev. Fourth seeded Medvedev ended Britain's Andy Murry on Wednesday 7-5, 6-2 to advance.
Raonic managed an early service break in the first match of the second set tiebreaker and repeated that twice more to win the match. Raonic, who hails from Thornhill, was ranked as high as No. 3 but after dealing with multiple injuries over the last few years has dropped to 18th.
However, Milos Raonic has a solid track record at the Brisbane International and won the title in 2016 after defeating Roger Federer during the final, one that Federer was expected to win. Raonic was also a runner up in Brisbane in 2015 and has made it to the semifinals on two other occasions.
Canada's top player made quick work of Aljaz Bedene in the first round on Monday defeating the Slovenian in two sets to advance to Wednesday's second round. It was the first time Raonic and Kecmanovic were paired against each other.
Raonic, at 28, is 11 years older than Kecmanovic, but made quick work of the young Russian with powerful serves to end the first set in under 27 minutes. He won thirteen of eighteen service points and scored seven aces.
Canadian teen Bianca Andreescu also made headlines after she downed Denmark's Caroline Wozniacki in two sets during the second round. The upset saw Andreescu beating Wozniacki 6-4, 6-4 on Thursday.
ATP Tour
Andreescu, who sent a crosscourt forehand that was out of reach for Wozniacki, was overwhelmed by the moment and ben down covering her head with hands as the crowd stood and gave her a standing ovation.
Andreescu, who is ranked 152 in the world has won her qualifying game to earn a spot on the tournament, spoke to the media after the match on court saying,
"Honestly, I can't believe it right now. I've dreamed of playing on this stage against top players and now I'm here. I've had a couple of back issues the past couple of months. I just fought until the end."
The younger Canadian, who has had several back issues over the last few months, saved break three times and was 83% with her break points. She will next face Venus Williams in Friday in the quarterfinals.
Thursday match was the first time Andreescu played against a top seeded player and the defeat for Wozniacki was the first since 2013 that she lost to the lowest ranked player at a tournament.
Andreescu, who turned pro in 2016, had a solid performance in 2017 and qualified at Wimbledon, which to date was her only Grand Slam tournament. She also made it to the Citi Open quarterfinals in Washington after upsetting 13 seeded Kristina Mladenovic.
However, 2018 saw the Canadian struggling with several injuries which resulted in her missing the Rogers Cup and having inconsistent results. Andreescu managed to bounce back before the end of the year with wins at two low level tournaments in the U.S.
Canadian Eugenie Bouchard will also join the list of Canadian players advancing. The Westmount, Que. Native will face Germany's Julia Goerges, and for Canadian sportsbooks and tennis punters, that is good news, especially for those who are interested in placing bets on quarterfinal match outcomes. With exclusive signup bonuses avaialble, now is the perfectt ime to register with one of our top rated tennis betting sites as the 2019 ATP Tour gets underway.