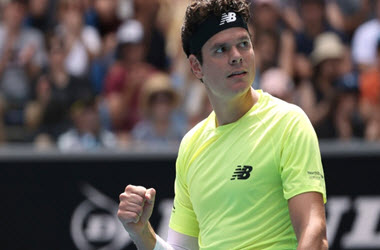 Canadian tennis star, Milos Raonic has advanced to the men's singles quarterfinals at the Australian Open after defeating Marin Cilic in three sets on Sunday afternoon. The victory over Marin comes on the heels of Raonic's win on Friday over Stefanos Tsitsipas.
This will be the Canadians fifth trip to the quarterfinals in Australia in six years, an impressive feat for any tennis player. It is especially rewarding for Canadians who follow tennis and wish to support their local hometown hero with bookmakers such as Sports Interaction, a Canadian friendly sportsbook offering punters up to $125 in sign up bonuses. Speaking on his successful match against Marin, Raonic said,
"I did a lot of things really well. I had the idea of how I wanted to play, and I was happy I could execute and sort of live up to that."
As Milos Raonic heads into the quarters, he will face a major challenge in Novak Djokovic, who he has yet to defeat in is his career. Novak Djokovic is the defending champion at the Australian Open and earned his place in the quarters with a win over Argentina's Diego Schwartzman, who is seeded 14th. Djokovic dominated the Argentinian in three sets, 6-3, 6-4, 6-4 on Sunday and will likely face a tougher completion against Raonic due to his powerful serves.
ustralian Open TV
Marin Cilic has struggled over the last few years as a result of various injuries. The former 2014 U.S Open champion continued that struggle with back issues on Sunday and has seen his world rank drop enough that he is no longer in the top 30. It didn't help that Cilic needed over four hours to defeat Spain's Roberto Bautista in the third round and trying to battle against Raonic's serves was simply too much, 35 of those were aces. Commenting, Raonic said,
"I was really struggling with my serve through the practice week. The first match, it didn't feel necessarily that great because it was a little bit windy on that court. I just sort of found my rhythm. Once I get my rhythm, and once I have continuity of playing, it comes for me. Serving is the most natural thing for me to do."
Cilic was able to pull off two set point wins against Raonic, yet with the Canadian firing off serves that were as fast as 225 kph and adding to the fact that he has yet to give up a set in the last four round, Cilic was in trouble. It was only a year ago that the Canadian made it to the Australian Open quarters and that saw him jump in the world rankings to 15th, only to suffer an injury that put him out of the Davis Cup, the French Open as well as the U.S. Open. Speaking on the challenges, Raonic said,
"It was hard for me to skip Davis Cup, but I had to spend time, because I was ailing (with) a back issue throughout pretty much the whole year. I had to take time where I didn't serve for about a month. But it allowed me to focus on other things, put other things together and get stronger, get fitter."
However, with a fresh outlook and a healthy body, Raonic looked ahead towards 2020 with a level of optimism that is somewhat guarded. While questioned on his preparing for the upcoming season, Raonic stated,
"I was able to train for about six, seven weeks straight without any hindrances, no setbacks. I was thankful for that."
Raonic is off to a good start this season after retaining Mario Tudor as his coach, who joined the Canadian last summer at Washington's Citi Open. However, that was not the only changes he made as he also made other staffing changings and his playing methods. Speaking those, Raonic stated,
"I switched around the people that are with me, so the methods have been a little bit different in that sense. Everybody sort of rotated around what I was doing in the gym and also how I was rehabbing and these kind of things. I spent two weeks in Boston to help focus on a few things there with a group of guys, and then I spent four weeks training down in the Caribbean."
After opening the 2020 season in Qatar and losing to France's Corentin Moutet, the Canadian arrived in Australia with limited amount of match play, yet he felt good, and while his serve has proved to be devastating against his opponents, there is no way to predict how it will Djokovic. However, with five of their last nine matches going three sets, it is anyone's guess there is little doubt that Raonic will need to land big serves, which he lamented upon stating,
"I'm going to have to serve well, clearly. And then I think I'm going to have to get my return at a high percentage, make him play a lot of those points, and then try to be efficient on my service games."
After winning against Schwartzman on Sunday, Djokovic sentiments were similar as he prepares to face the Canadian. Speaking during an on-court media interview, Djokovic said,
"One of the key elements will be how well I'm returning, and how confident I am on my service games. I'm really glad to see Milos healthy and playing on a really good level again. He's a great guy, we speak the same language, and I'm glad to see him in the quarters."