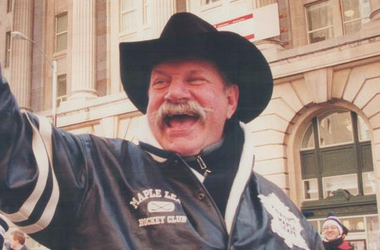 Eddie Shack, one of Canada's most iconic hockey players, has passed away at the age of 83. The star forward, who was born and raised in Sudbury, Ontario had a long and successful career in the NHL amassing 239 goals and 1430 plus penalty minutes in 1047 games over seventeen seasons.
The news of his passing was made by the Toronto Maple Leafs on Sunday morning via its Twitter page, stating,
"Eddie entertained Leafs fans on the ice for nine seasons and for decades off of it. He will be greatly missed. Our thoughts are with his family."
Eddie Shack, who was notorious for his colorful antics on and off the ice, earned the nickname "The Entertainer". Shack was born in 1937 to Ukrainian immigrants and after working at a butchers shop, tried out for the OHL's Guelph Biltmores playing five seasons before making the leap to the NHL.
He began his NHL career playing for the New York Rangers before being traded to the Detroit Red Wings. After the trade was cancelled, Eddie Shack was signed to the Toronto Maple Leafs where he remained for almost nine seasons before moving on to play for the Boston Bruins, Los Angeles Kings, Buffalo Sabres and the Penguins before returning to Toronto before he retired.
Eddie Shack had a reputation for a distinctive skating style and a larger-than-life personality. He won four Stanley Cups while with Toronto where he scored the winning goal in the 1963 Stanley Cup final. Known for his mustache and trademark cowboy hat, he was a friend to all who met and knew him.
Toronto Maple Leafs
Former captain of the Toronto Maple Leafs, Doug Gilmore tweeted at the news of his passing that he was sad at the loss, but happy to have known him before adding,
"Eddie Shack taught me two important things — see humour in just about everything and live like a Champion. Four cups with the Leafs and a personality larger than life."
In October of 2016, Eddie ranked in 68th position on The One Hundred, a list that ranks the best players to have played with the Toronto Maple Leafs. In addition to being considered a hometown hero, Shack earned accolades after a 1966 song by Douglas Rankine with The Secrets called Clear the Track paid tribute to the star saying,
"Clear the track, here comes Shack. He knocks 'em down and he gives 'em a whack. He can scores goals, he's got a knack. Eddie, Eddie Shack."
In addition to having a reputation as a kind and gentleman, on the ice, it was a different story. Shack twice knocked out Gordie Howe. The two had a long history of disliking each other, but after a golf tournament, the two agree to stop fighting each other and sealed the deal with a handshake.
After retiring, Shack was seldom seen at a Leafs game but from time to time, would return, much to the delight of fans, few of who never saw him play but looked upon him with affection. In his retirement, Shack was a spokesman for several Canadian brands and lent his name to a doughnut franchise. Commenting on his life Shack said during a commercial for the Pop Shoppe,
"Maybe I didn't go far in school. But there's one thing I've learned from my mum and dad. Look after the nickels and dimes and the dollars will look after themselves."