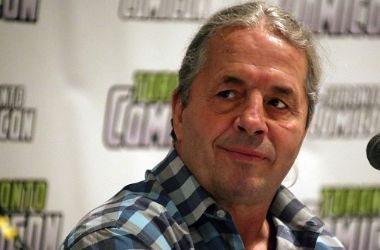 Let's get this out of the way early: yes, as reported by Wrestling.ca, there is a real presence in Canada when it comes to the sport of amateur wrestling. It may not be spoken about as frequently or as fondly as in the United States (we're sensing a bit of a pattern here) but even with that being the case, it feels like it needs to be recognised all the same.
Of course, as you can probably tell by the photo, we're here to talk more about the professional version of wrestling that is considered to be such a 'taboo' subject amongst non-fans of sports entertainment. In our mind, though, we think it's one of the biggest sources of pride for Canada as a nation – and we hope that legacy continues on for many, many years to come.
The wrestling heritage lives
A lot of people will point towards the days of the Hart family as the golden era of wrestling in Canada, and that's how it should be. The Harts proved to the world that Canada was just as, if not more capable, of churning out wrestlers that had the kind of technical quality that just wasn't seen at the time. In the modern era, though, there are kids doing things that are arguably even more impressive – as reported by Uproxx.
"Zayn's last Sami For Syria campaign was a huge success, raising $106,755.01 in conjunction with the Syrian American Medical Society Foundation. It kicked off on his 33rd birthday to help establish a mobile clinic and make medical care more widely accessible in the beleaguered country, and Zayn pressed forward with little-to-no support from his employers, who didn't publicise the campaign.
Sami's Syrian heritage prevents him from appearing on WWE's Saudi shows. Both of his parents hail from the country, he still has family there, and the Saudi Arabian government reportedly ordered he be prevented from this latest show. He joins Aleister Black, John Cena, Daniel Bryan, and Kevin Owens on the list of wrestlers who haven't travelled."
Be proud, fellow Canadians
Sami Zayn is one of the shining lights of the Canadian wrestling scene in the ring, but out of it, he has been doing work that is arguably even better. He has been putting the spotlight on some of the travesties that have been going down over in Syria, which as we all know, is in an incredibly delicate position right now.
This is just a quick post to highlight two things: Canadians need to be proud of their history in professional wrestling just as much as amateur wrestling, and they also need to open their eyes and realise just how much of an impact they're still able to make on the global stage.
This is a pretty big deal and as we look ahead to the future, it really does feel like the nation is going to continue to take over as the leading force in professional wrestling – in WWE, All Elite Wrestling, and beyond. Isn't that great?