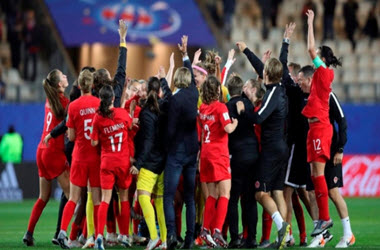 The women's World Cup Canadian team is heading into its final group match on Thursday against the Netherlands with the knowledge that it already has secured a spot in the knockout stage, regardless of the outcome of Thursday match.
That attitude is a measure of the determination in the Canadian team not being happy enough with just winning games and moving on to the next stage, they want more and hope to showcase to the world the talent that makes up this team.
Canada is ranked 5th, and the Dutch are ranked 8th and have equal goal differences and points. However, the Dutch sit one goal ahead of Canada, and that gives them the advantage should their match end in a tie, and that means Canada needs to win to earn the top Group E spot.
The winner of Group E will move on to Rennes, France and face the runner up in Group D, which will be either Japan or England. The runner up in Group E will face the runner up in Group F, in this case, either Sweden or the U.S.
"We just want to win and play good football."
Canada to play Netherlands for first place in Group E at FIFA Women's World Cup France 2019™

STORY 🍁 https://t.co/Kq37kIQfcK#CANWNT #FIFAWWC pic.twitter.com/xmKKdthP9u

— Canada Soccer (@CanadaSoccerEN) June 19, 2019
The Dutch team had high expectations entering the tournament but needed a goal during stoppage time to come away with a victory over New Zealand and against Cameroon, were tied until finally pulling ahead towards a 3-1 victory. That saw the media questioning coach Wiegman about whether changes are needed. Commenting, Wiegman stated,
"We are very critical, of course, ourselves as well with each other, which is a good thing, but we should be happy with what we've shown so far. We have six points and we've made it to the next round. Of course, there are details that can be improved but we can be proud of ourselves."
In the last twelve matches between Canada and the Netherlands, Canada has yet to lose once. The last pairing in 2016 saw Canada winning 2-1 and in 2015, the match ending in a tie during the Montreal World Cup.
However, since their last appearance together, the Dutch team won the 2017 European title by winning each of the six games played. In qualifying for this years' CUP, the Dutch were runners up to Norway, that after only suffering one loss. During the Algarve Cup, the Dutch team lost to Poland and Spain before finally edging out China during a penalty kick. Since then, they have five back-to-back wins thanks to Lieke Martens, Shanice van de Sanden and Vivianne Miedema in their roster.
During their match against Cameroon Miedema scored twice and that propelled her into the All-time scorers' position for her country. In 2017, she won the Euro 2017 player of the tournament and also was the recipient of the 2017 Best FIFA Women's Player and 2016-17 UEFA Women's Player of the Year.
Yet, while the Dutch are on a good run, Canada is as well with Wiegman taking the 2017 Best FIFA Women's Coach Award, and Christine Sinclair is pushing hard to beat the record holder for World Cup goals Abby Wambach. Sinclair is well within reach and needs only three more to match that record and four to set a new one.
Currently, Canada is unbeaten and have outscored opposing teams 11-1, have recorded nine shutouts and have gone 423 minutes without giving up a goal. Commenting on their success and the pressure Sinclair faces, the captain stated,
"I've been waiting my entire career in a way for this pressure and this expectation. To be a top-five team in the world is a remarkable achievement for Canada and this group of players. We're right there.
Sinclair added that the team is right there if you look at their results over the last two years. Continuing her statement, Sinclair stated,
Beating England in England earlier this year really gave us some confidence that we can literally beat anyone. Now it's just a matter of doing it in a big tournament, where OK you beat Germany, then next game you have to beat France and the game after that you have to beat the U.S. It's a matter of us putting it together when it matters most."