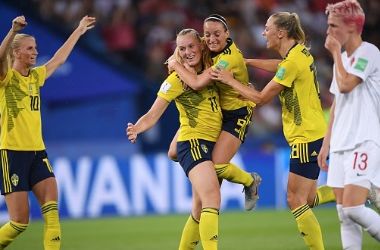 Heading into the Women's World Cup it felt like Canada, if they could gather a bit of momentum for themselves, were capable of doing some really interesting things in the tournament. They've gone deep into it before, and the expectation was that they'd be able to do so again. Alas, as reported by CBC and BBC, their run came to an end last night in heartbreaking fashion as they lost 1-0 to Sweden in their Round of 16 tie in Paris.
The first half was pretty dull, truth be told, with both teams just kind of going through the motions. There were half chances here and there, but the nerves were quite clearly on display for two teams who knew that a win here could set them up brilliantly heading into the quarter finals. As the second half began it felt as if the Canadians were slowly starting to build their way into the game, and then, it all came crashing down around them.
Here we go again
Stina Blackstenius was able to break the deadlock with the first shot on target in the game, leaving the Great White North with some serious work to do. It didn't really look as if they were going to be able to put too much significant pressure on the Swedes, when out of nowhere, they were awarded a penalty. Janine Beckie was the woman to step up and try to equalise for Canada, but she was unable to get the job done as Hedvig Lindahl made a brilliant save to keep Sweden in the lead – which was what they deserved on the balance of play.
Even with seven long minutes of added time to play with, Canada just couldn't quite force the issue, with a late VAR decision going against them too. Sweden put in a pretty professional display when you look at the game objectively, but if they're serious about making another run towards the final, they're going to have to seriously improve ahead of their quarter final showdown with the Germans.
Thinking ahead
For Canada, it kind of goes without saying that this was an incredibly disappointing way to end their campaign. It felt like they had more in their locker than this, and they'll probably be left to wonder what could've been – especially with the likes of France and United States looking so unremarkable. Of course, they can't spend too much time feeling sorry for themselves, because they instead need to pick themselves back up and go again.
That's easier said than done, but let's face it, the big push now moves towards 2023 and beyond that, the 2026 FIFA World Cup (the men's equivalent). Even though it won't be the women that are showcased on that stage, it's going to be an important time to be a fan of soccer in Canada courtesy of their hosting duties.
The rest of the tournament (the current one) is probably going to be really entertaining to watch, but it's just a shame that Canada won't get the chance to make another impact on proceedings.