Canada Claims Its First Davis Cup Championship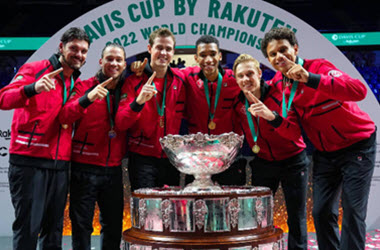 The Davis Cup is considered by many to be the "World Championship of Tennis", and on Sunday, the squad that wasn't expected to make the finals went on to defeat Australia and win their first ever Davis Cup Championship.
The Canadian squad, led by team captain Frank Dancevic and teammates Gabriel Diallo, Alexis Galarneau, Vasek Pospisil, Denis Shapovalov, and Félix Auger-Aliassime, lifted the Davis Cup trophy for the first time since Canada began participating in the event in 1913.
After the Netherlands swept Canada during a qualifying tie in March, Canada's top players, Denis Shapovalov and Félix Auger-Aliassime, both decided to skip, and that saw Canada being given a pass to the final phases as the highest-ranked country eliminated after Russia was ejected due to the invasion of Ukraine.
With Canada given a second chance, they managed to make it through the elimination rounds in Valencia and this week they made into the final eight in Malagá. Canada then went on to defeat Germany on Thursday in the quarterfinals, and on Saturday, they defeated Italy in the semifinal before sweeping two singles matches against Australia on Sunday to win the title.
"What a way to end the year, said Vasek Pospisil. "It's Davis Cup and we are the champions, world champions."
Canada's Captain, Frank Dancevic, who has been a member of Canada's Davis Cup team for fourteen years, said the party would last all night until their flights on Monday. And for Canada's youngest substitutes, Gabriel Diallo and Alexis Galarneau, they are expected to play their part in the years to come.
Joining the post-tournament press conference, they said little, but their support from the sidelines, and that from the coaches and support staff, made it a team effort.
"We faced a lot of obstacles this week, said Captain Frank Dancevic." We were down many matches, but we had our spirits high and kept fighting until the end, and we are here now with the trophy. It's just an incredible feeling."
After the events earlier in the week that saw Denis Shapovalov going through a physically battering three-hour and fifteen-minute match on Saturday, the final on Sunday against Australia was almost anticlimactic.
Shapovalov, who defeated Australian Thanasi Kokkinakis 6-2, 6-4, put Canada one step closer to the Cup, then Félix Auger-Aliassime managed to come out on top of Australia's No. 1 player, Alex de Minaur 6-3, 6-2.
Auger-Aliassime performance during the week was impeccable and instrumental in giving Canada the chance to play in Sunday's final against Australia.
"I saw the opening. I thought, 'This is it. I'm going for it.' That's it," said Auger-Aliassime. "After that, my legs just dropped on me. I was just … my leg just collapsed. To have Frank and everybody rush me, screaming, it was amazing."
Unfortunately, Canadian fans watching the final on TVA in French and Sportsnet in English were unable to capture the final moments after the international feed went down. With the commentators left scrambling, Canadians were reconnected in time for the trophy ceremonies after organizers were able to tap into the feed from the Tennis Channel.
In the last few Davis Cup's, the men's team have excelled in the team format. That started in 2019 when they made it to the finals but lost to Spain. However, Felix Auger-Aliassime was only 19, and Denis Shapovalov was 20.
Since then, the two have matured, and their skills have developed, and that helped Team Canada win the team competition at the ATP Cup in Australia last January, and on Sunday, they managed to win the ultimate prize, the Davis Cup.
The Davis Cup, which has run yearly since 1900, has seen some fundamental changes that has seen many seeing the competition as far from its normal self, yet it still remains the ultimate prize.
Auger-Aliassime, who had a surprise elimination from the U.S. Open, had remained silent until September on whether we would commit to playing preliminary finals. However, his loss at the U.S. Open meant he could make the date, and he was instrumental in helping Canada qualify.
Unfortunately, Auger-Aliassime and Vasek Pospisil has to do the job without Denis Shapovalov, who was unavailable for the preliminaries. Pospisil, who is now 32, has always stepped up and, on several occasions, been the one to lift the team on his shoulders and carry it to victory.
"Over the years we have just slowly been growing closer and closer to getting the title. In 2013, we had a bit of a run and made the semis. Then we've been in world group for a while and made finals in 2019," said Pospisil. "It's hard to explain, but (at the) beginning of the week it kind of felt like we were going to win it. Just kind of this feeling that I had. Maybe some of the other guys had it, too."
With Shapovalov's return for the final stages gave Pospisil the opportunity to focus on the doubles, and it also saw two top 25 single players joining the Canadian contingent. And Canada took full advantage against the teams that were missing key players.
Germany was without Olympic gold medallist Alexander Zverev after he suffered an injury in June, Italy was without two of its key players, Matteo Berrettini and Jannik Sinner, and Australia was without its highest-ranked player, Nick Kyrgios.
That left Canada with one of the best, and something bettors should keep in mind for the ATP Cup in Sydney, Australia. Running from the 1st of January to the 9th, the tournament is an excellent opportunity for bettors wanting to show their support for Auger-Aliassime and Denis Shapovalov with Canadian bookmakers like Bodog and Betway Sports, both of whom have superb welcome offers for Canadian tennis bettors.