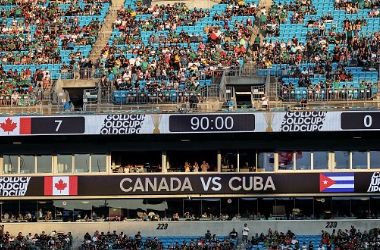 Canada have booked their place in the quarter-finals of the 2019 Gold Cup, as they continue their progress and improvements ahead of the 2026 FIFA World Cup. They dismantled Cuba with a ruthless performance, setting themselves up perfectly for a tie against Haiti.
"Lucas Cavallini: The Canadian forward made his presence known with a hat trick in the first half, pushing Canada to a 4-0 halftime lead. His second and third goals were scored within two minutes of each other near the end of the half. Cavallini had scored Canada's lone goal against Mexico in the last match. He has four goals in this tournament.
Jonathan David: The forward scored a hat trick of his own and had two assists against Cuba on Sunday night. The Canadian forward had played a role in the goals during the team's first two matches. He scored two goals vs. Martinique and an assist vs. Mexico. He led the team with seven shots in the tournament, now 10.
Junior Hoilett: Coming off of Wednesday's 4-0 win over Martinique where he contributed one goal, the Canadian forward had a single goal against Cuba and had two assists."
The next step
Those are the observations of the Charlotte Observer, in the wake of Canada's big time win over Cuba to book their place in the quarter-finals of the Gold Cup. In reality, though, all that actually matters are the words of their head coach, as reported by CBC.
"Our Canadian football system is starting to produce players," Herdman said. "That's exciting, seeing those youngsters coming through."
"If we never brought that energy Cuba could have gotten that little injection and made it tough for us," Herdman said. "But there was clarity from all of the players. [Cavallini] and Johnny were given some great opportunities."
Figuring it out
It now becomes clear to see what Canada's path to the final will look like – that is, if they're serious about their intentions of getting that far. They'll go one on one with Haiti which should be a fairly comfortable win for them, but then, they'll go head to head with the winner of Mexico vs Costa Rica. While we fully believe that Costa Rica are beatable, we'd also argue that taking on Mexico again wouldn't be the worst thing for this Canadian side.
They know what it feels like to play against them in this tournament, and they would be able to utilise that experience as they push on and try to make it further and further.
Jamaica, Panama, United States or Curacao will then be the opposition in the final for Canada if they can overcome the odds, and realistically speaking, the US would be the most likely contenders there. That's a really entertaining prospect of a match-up to consider, especially when you think about the underlying meaning between these two countries waging war in the world of sports.
But we don't want to get too far ahead of ourselves, because there's still a long way to go. Even so, though, it's an exciting time to be a fan.