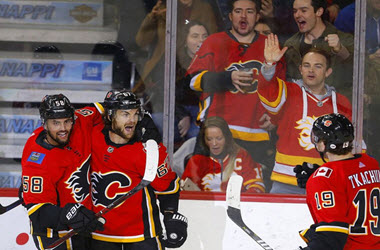 The Florida Panthers rolled into Calgary hoping to snap their four game losing streak only to leave disappointed after leading the game 2-0 in the first period and watching the Flames win 3-2 after a late charge in the second period and blistering third.
Michael Frolik, who sat out most of the game, earned a promotion to the second line and took full advantage of it as he joined Matthew Tkachuk and Mikael Backlund. It was Frolik who put Calgary on the scoring card after scoring the Flames first of three last night. For Frolik, he said it was not the start he hoped for last night adding,
"It's not easy, you're cold, you're not in the game. When you get out there, you get a 10-second shift and then they switch the line."
The Calgary Flames were down 2-0 after the first period and midway through, Frolik got the nod and joined the second line and didn't take long before picking up on a deflected shot from Mikael Backlund to earn his eleventh goal of the season.
Calgary tied the game less than five minutes later after Frolik came down the wing only to stop, wait for Mark Giordano and send the captain a pass across the ice that Giordano sent past Florida's Roberto Luongo. The goal was challenged by the Panthers coach, Bob Boughner claiming Matthew Tkachuk interfered with the goalie after bumping into Luongo, but after review, the goal counted.
Frolik also proved his worth in the third in a move that put Calgary ahead 3-2 after jumping on a turnover by Florida's Jonathan Huberdeau inside the Florida Panthers blue line and feeding it to Matthew Tkachuk who scored the winning goal, his 21st of the season.
"I don't know how he saw me. I was just hiding in the weeds back there and he made a great play."
Sportsnet
Coach Bill Peters commented on Frolik, who in the last seven games has scored four goals and earned four assists, stating that,
"He's been awesome, He's been great. A good pro, veteran guy. He's been in the league a long time."
Peters chose to juggle the lines last night after the Flames went into a two goal deficit. He had hoped to do that earlier, but down two goals, timing was critical. Commenting, Peters said,
"We fell behind early and didn't have any jump, so then we had to get going with nine guys and try to get nine guys more ice time and a little bit more of an emotional attachment to the game. We haven't played well here for a while and it's been masked by the fact we've got wins."
Florida's Evgenii Dadonov, Jonathon Huberdeau and Mike Hoffman scored for the Panthers who are winless in the last five games played. Assists were awarded to Aleksander Barkov, Frank Valtrano, Keith Yandle and Roberto Luongo. The second and third periods didn't go as planned and for Mike Hoffman, he felt the Panthers began to panic and got away from making plays. Hoffman added,
" "We kept chipping it back to them and then we weren't able to change. Long change in the second period and they kept coming."
After going winless on their current road trip, coach Bob Boughner feels Luongo did a good job stating,
"At the end of the day we had four or five glorious opportunities to go ahead in this game and get the next goal and we never did. Give their goalie some credit. He made some big saves."
The news of the loss was not welcomed news by sports bettors and bookmakers alike, especially given that the Panthers now sit 25th out of 31 teams in the NHL standings. This only leads to sports betting sites such as Sports Interaction lowering the odds in favour of Florida winning games.
Calgary will play host to the Colorado Coyotes on Sunday before having a two day break and the arrival of the Buffalo Sabres for a 7:30p, game in Wednesday. Florida, on the other hand, will continue their five game road trip with stops in Vancouver on Sunday, Montreal on Tuesday and Toronto on Friday.