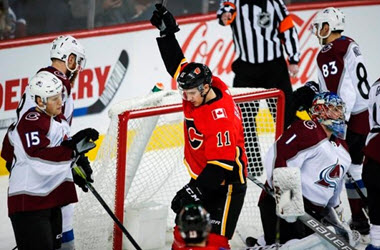 The Calgary Flames continue to sit near the top of the league after recording another victory last night against the Colorado Avalanche.
Calgary came out aggressive in their bid to continue their push towards topping the standings. The  Calgary Flames are currently second overall, just behind Tampa Bay, and needed only 5 minutes and 34 seconds to score their first goal.
Mikael Backlund picked up a rebound after a shot by James Neal bounced off the pads of Semyon Varlamov and wasted no time dumping it into the net to put the Flames up 1-0, and less than five minutes later, Mark Jankowski made it 2-0.
Mark Giordano, who at 35 is one of the oldest defencemen in the league was in the wings helping earning assists on both goals. Giordano, who is having a solid season having racked up 43 points, commented,
"Just trying to put pucks on net, jump in when I can. Playing on a pretty good power play with pretty good players, trying to move the puck around to those guys and get it in their hands and when you do that with those types of players, they reward you."
Elias Lindholm and Matthew Tkachuk also scored for Calgary, and T.J Brodie, Johnny Gaudreau, Sam Bennett, James Neal and Derek Ryan each were credited with assists.
Sportsnet
Giordano played an integral part of last night's success and was in the right place when Michael Frolik scored the game winner, who commented that Giordano is one of the bests he's met adding,
I couldn't be happier that I have a chance to play with him. He's been unbelievable, especially this year. He's really driving the bus on the back end now."
The Flames, who are 65% on penalty killing improved substantially last night going four for four whereas Colorado, who is 16th overall, have given up eight goals in its last nineteen power plays. The improvement wasn't lost on Mark Jankowski, who scored his seventh of the season.
"Our PK, the role is to shut it down so I think we did a pretty good job of that and trying to halt their momentum."
Colorado's Nathan MacKinnon continued his point streak last night to eight games after scoring the Avalanches late in the first. Also scoring for Colorado was Mikko Rantanen and Erik Johnson. Gabriel Landeskog, who had two assists last night feels the team is not finding ways to win at the moment stating,
"We're generating plenty of chances and we allowed only 16 shots. When you do that you've got to be able to win."
The Colorado Avalanche are currently nearing the end of a five game road trip on Canada that will end in Montreal on Saturday. Without a win in the first two games, the frustration is starting to show said, Coach Jared Bednar, who added,
"That's a little bit disheartening, playing two games like that on the road back-to-back against two really good teams and coming out with nothing because I thought for the most part that we were really good tonight. It feels like defensively we have to play a perfect game right now because we just aren't getting any puck luck at the other end."
Last night was another solid performance by the Flames, who not only sit one spot out of first place, but also are being favoured by sports betting sites such as Sports Interaction, who with a $125 signup bonus on tap for those newly registered, the opportunities are ripe for Canadian punters, especially when two of the top three are Canadian teams.
The Flames will next welcome the Florida Panthers after having Thursday off before meeting Arizona for a Sunday evening home game. Whether Colorado improves is to be seen, but it is clear they continue to struggle on getting the job done, but with a few days to regroup before heading to Montreal on Saturday and then a Monday evening game in Toronto, Avalanche fans are hopeful.