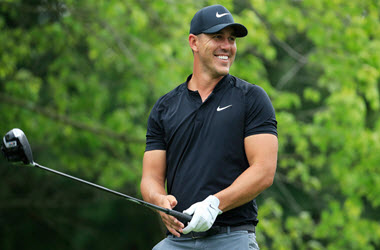 PGA champion and U.S. Open Brooks Koepka can now add PGA Tour player of the year to his list of trophies after winning the Jack Nicklaus Award trophy by none other than Nickolas himself.
The last six years has seen six different PGA Champions winning the trophy, the longest in history to see a different player win since 1990. After being surprised by Nickolas, Koepka commented that his attitude while not playing was a big contributor in his efforts to recover after partially tearing a tendon in his left wrist. Koepka added that,
"I was down when I was missing everything. I tried to have the most positive spin on it when I was home. It did stink. It was the worst, emotionally tough times for me. Sometimes when I would question it, I kept saying: 'I'll do it. I'll be fine.' Good news or bad news, I had positive energy."
It took only four tournaments for Koepka to get back near the top finishing runner-up at the Fort Worth Invitational, and three weeks later, he managed, as defending champion, to win the U.S. Open, a first since 1989 when Curtis Strange achieved the same feat.
Brooks Koepka continued to perform well throughout the rest of the tour and was able to hold off Tiger Woods to win the championship at Bellerive. Books becomes only the fifth player in the history of the PGA to win the PGA Championship and the U.S. Open in the same year. He joins Tiger Woods, Ben Hogan, Gene Sarazen and Jack Nicklaus.
Have a year @BKoepka!
Little late in joining chorus of congrats but hope you know how happy & proud I am of you taking over No. 1 spot in world! Just adds to your incredible 2018:
✅ Defend @usopengolf title!
✅ Win @PGAChampionship!
✅ @PGATOUR Player of Year!
✅ 1️⃣🌎
👏🏼👍🏼

— Jack Nicklaus (@jacknicklaus) October 23, 2018
The number of votes in favour of the winner is not disclosed by the PGA, but also on the ballot this year was Francesco Molinari, winner of the British Open champion, Justin Rose, winner of the FedEx Cup, Bryson DeChambeau and Justin Thomas, both of whom earned three wins this season.
Also earning awards this year was Thomas, who won the Arnold Palmer Trophy for being on top of the money list. He also made that achievement last year and became the first to achieve that since Tiger Woods did in 2006/2007. Justin Thomas was awarded the Byron Nelson Award and the Vardon Trophy for achieving the lowest adjusted scoring average on tour.
Nickolas presented Koepka with his award at his home course while in an interview at The Bear's Club in West Palm Beach, Florida. It was Brooke's first week home after playing the Dunhill Links Championship.
For golf punters, it is an ideal time to place your bets as the PGA season comes to a close with our top-rated PGA Tour betting sites. Koepka and the tour now head to the Men's CJ Cup in South Korea before heading to Shanghai for the HSBC Champions.