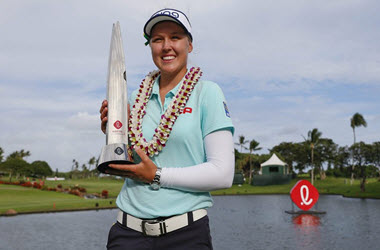 Canada's Brooke Henderson saw herself walking away with her 6th LPGA title yesterday after it became apparently clear that other than Brooke, there was no one else who could beat her at the Ko Olina Golf Club.
Henderson dedicated her win to the families, friends, and people affected by the tragedy that saw 15 lines lost in the accident and another two succumbing to their injuries. Playing in honor and memory of the Humboldt Broncos junior hockey team motivated the talented Henderson in a final that saw her win by four shots.
While celebrating her victory, the sadness that enveloped Canada this week over the tragedy in Saskatchewan impacted this week's events, commenting Henderson said,
"It's extremely sad, a terrible tragedy what happened up there. I know it kind of affected my whole country. Everybody really took it kind of personally.
She continued by saying,
"For all the survivors that are still fighting through it and all the ones that have passed away, I want to show them that we're here for them and we're supporting them. They're always going to be in our thoughts and prayers."
All those playing, along with their caddies wore ribbons of green and gold out of respect for the victims. The team was on route to play game five of the playoffs when the bus they were traveling collided with a transport truck. The bus was carrying twenty-nine people, and the collision saw 15 lose their lives, thirteen suffered a multitude of injuries and two others passing from injuries. Alena Sharp, another Canadian player from Hamilton, joined in the mourning and respect for the victims by posting a picture on Twitter of her ribbon as a silent show of respect.
LPGA
Brooke Henderson is only 20 years old and with yesterday's win, is only two wins shy of beating the record of Sandra Post for having the most wins by a player from Canada. The win added $300,000 in prize money for Henderson to the $200,000 already won this year. Her career total now stands at over $4 million and is just three years young.
The final round of play saw Henderson sitting at three under par and 12 under for the tournament. That put her four shots above second place Azahara Munoz. For Munoz, the finish was her best in the last four years, and beyond Henderson, Ariya Jutanugarn was the only other golfer in the field to break 70 after dealing with up to 30 mph winds and rain.
Commenting on the wind, Henderson said,
"Crazy windy again. Just being able to adjust to it, kind of stay poised in it. Things aren't going to always go perfectly, but I felt like my ball striking was probably the best it's ever been."
Ariya Jutanugarn, Inbee Park and Shanshan Feng tied for third in the tournament. Park managed to bogey the final two holes to make it a three-way tie.
Henderson was ranked fourteenth going into the tournament and expectations were high as she has never finished less than eleventh at Ko Olina Golf Club. Half way into the tournament she was already 10 under, had yet to bogey any hole and was sitting two shots above the second place golfer.
By Friday, she had increased that lead to five before struggling with putting to allow the field to close in. Going into the final day saw Henderson only up by one shot however by the eleventh hole, she had increased her lead to three shots only to have a few hiccups when she had a bogey on the 12th hole and missed the chance to birdie the next hole when she failed to sink a putt.
However, Henderson didn't let it impact her focus or play and recovered with a tee shot that landed a mere 20 years from the hole on the 14th, quickly sinking the putt and giving her a birdie for the hole. The 16th hole saw the Canadian also earning another birdie, and that secured her the win. The week was mentally good for Henderson, who had a few misses but did not let it affect her focus. Speaking on this, she replied,
"Mentally I was in a great spot this week. I missed a couple putts, which you could argue that mentally I wasn't there because of a couple mishits, but I think to recover from that and kind of put it in the past and then go out and make some more birdies. And, being the leader since early Thursday, that does add a little of pressure."
The LPGA next heads off to Los Angeles for the Hugel-JTBC LA Open and will then play the LPGA Mediheal Championship in San Francisco. Golf bettors will be keen to see how the LPGA season progresses, and if it is any indication of what is to come, golf betting sites will be watching Brooke Henderson closely.
The only real competition on the final day came from Jutanugarn and Munoz who tried to catch up, but both fell short. Munoz has dealt with a number of injuries in the last couple of years but managed to gain thirteen positions on the final day. She came within two shots of Henderson, but it was not enough.
Jutanugarn, the Player of the Year in 2016, earned another top 10 finish, her fifth of the year and was hoping to this tournament would see her win her 8th victory on the circuit but was unable to catch the hard-driving Henderson.