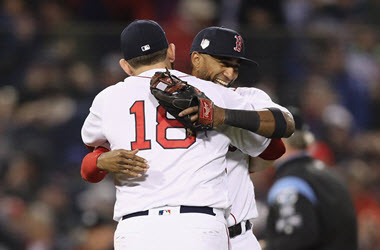 Game two of the World Series was one that Boston needed to give them the edge over the Los Angeles Dodgers. It was one that saw David Price earning his second victory in a row in the post-season as Boston went on to win 4-2 and take a 2-0 lead in the series.
Price pitched a near perfect six innings giving up only three hits. The two were tied going into the fifth until J.D. Martinez hit a two run single to give the Red Sox's the lead, it was one the Dodgers were unable to overcome.
Game 3 of the World Series takes place on Friday in L.A, and it is a must win for the L.A Dodgers if they wish to avoid what will be almost impossible to overcome when considering the skills of the Red Sox. For baseball betting punters, the World Series is the one they look forward to all year, and with leading Canadian sportsbooks like Bodog offering great odds and promotions, getting bets in before game 3 on Friday is imperative.
The Boston Red Sox have a proven track record in the World Series having won fourteen of their last sixteen games, one that dates back to the 2004 World Series when they faced the St. Louis Cardinals. Considering Price was zero for nine in the post-season, the last two games have been exactly what he needed as he has earned three back-to-back wins including game 5 in the ALCS against the Astros.
For Price, something changed while warming up during Game 4 in Houston,
"I take a lot of pride in being able to evolve from pitch to pitch or day to day or game to game. Being able to make adjustments on the fly, it's paid off."
MLB
It was a cold night in Fenway Park, but Price was able to take Boston through the first six innings without much difficulty. He did struggle in the fourth inning and watched as the Dodgers had the bases loaded with zero outs, but the Dodgers were unable to drive them home.
The Red Sox have been stellar in their hitting all season and managed to score all runs in game 2 when they were facing two outs. Mookie Betts and Christian Vazquez both singled, and Andrew Benintendi earned a walk to see Boston with the bases loaded before relief pitcher Ryan Madson took the mound only to walk Steve Pearce to tie the game before J.D Martinez to drive home the winning run.
The Red Sox were able to retire the last sixteen LA batters to earn the win with Craig Kimbrel earning his sixth post-season save. The win has put them in a commanding position with stats showing the last ten teams who won the World Series all won the first two games have won the series, for the Dodgers, that is not good news, nor odds.