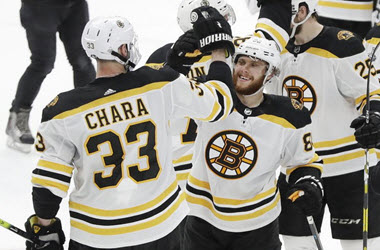 The Bruins went into Game 6 in a do or die situation, either win or go home, and that is exactly what they did. They returned to form and found the right mix for what was needed to dominate the St. Louis Blues and force Game 7.
Maybe they had something to prove, maybe it was part revenge, but it didn't take long for St. Louis to be on the defensive as the Boston Bruins came out charging at the Enterprise Center and earning a landslide 5-1 victory to tie the series 3-3. Now all that is left is Game 7 on Wednesday night. It will be a night where Boston is looking to be crowned Champions, their second in nine years if successful, and the St. Louis Blues will be looking to be crowned Champions for the first time in 49 years.
Boston's Brad Marchand, David Pastrnak, Brandon Carlo, Zdeno Chara and Karson Kuhlman each scored one goal for Boston. While Marchand, Pastrnak, Jake DeBrusk, David Krejci, Tony Krug and Sean Kuraly earned assists. Goaltender Tuukka Rush had 28 saves for the night, while St. Louis's Ryan O'Reilly scored the Blues only goal and assists were awarded to David Perron and Alex Pietrangelo.
Sportsnet
Tuukka Rask was spectacular in net and was instrumental in holding off St. Louis and closing the door to multiple scoring opportunities that easily could have changed the outcome. This includes stopping twelve shots on goal during four power play and even stopping a shot with the help of the post while on St. Louis was on a two man advantage.
After a night filled with controversy in Game 5, the Bruins were hungry. The uncalled penalty after Noel Acciari was tripped by Tyler Bozak. That saw Boston players standing idle expecting a call and St. Louis keeping the play in motion and scoring their second goal in the game.
The revenge last night though was near instant with Boston scoring at the 8:40 minute mark to get their first after Brad Marched picked up a pass from David Pastrnak. It was Marchand's ninth in the playoffs. The real action came, however, in the third period, that was when things shifted. First, it was a goal by Brandon Carlo after he snuck a weak shot past Binnington 2 minutes into the third. Then Karson Kuhlman made it 3-0 for Boston.
St. Louis finally managed to get on the board with when Ryan O'Reilly scored midway through the third with a wrist shot from the right side to make it 3-1. However, that was all they seemed to be able to muster as Boston's David Pastrnak scored to make it 4-1 and finally, Zdeno Chara scored on an empty net to make it 5-1.
The St. Louis Blue and Boston Bruins will meet for Game 7 on Wednesday night at 8 pm at TD Gardens in Boston. Those wishing to place bets on the final game can do so with a nice section of Canadian friendly sportsbooks such as Sports Interaction. New members to the sportsbook will enjoy a signup bonus of up to $125. Register today to take advantage of this offer.