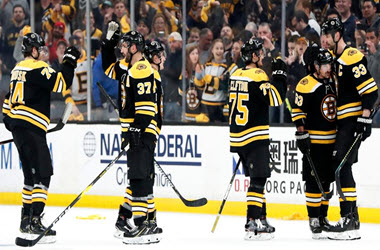 The Boston Bruins series against the Hurricanes it heating up in favour of Carolina who now are down 2-0 after a landslide victory for Boston that saw the crowds once again chanting "We want the Cup!"
Matt Grzelcyk saw his first game with multiple goals in his NHL career on a night that Tuukka Rask only had to stop 21 shots. Also scoring for Boston was Danton Heinen, David Backes, Connor Clifton and Jake DeBrusk. Assists went to Charlie Coyle and Torey Krug with three each, Danton Heinen, Patrice Bergeron, David Krejci and David Pastrnak with one apiece and Marcus Johansson earned two.
Connor Clifton, who earned his first goal in the NHL last night became the 19th Boston Bruins player to score during the post-season, and that tied a franchise record. Boston coach, Bruce Cassidy commented that,
"It does feel contagious. Everybody's contributing."
Sportsnet
Boston now needs only two more wins to head to the Stanley Cup finals. If they succeed, it will be their third trip in the last nine seasons. The series will now move to Carolina for the next two games, and without a win, Carolina will see an end to their hopes of going to the final. Punters interested in placing bets on Games 3 and 4 will find generous betting opportunities at Sports Interaction, a highly rated Canadian friendly sportsbook offering favourable signup bonuses.
Carolina captain, Justin Williams was not pleased with the 6-2 loss last night, one that was embarrassing and a tough one to swallow. Commenting on the loss, Williams said,
"Sometimes you've got to eat a poop sandwich. It doesn't taste good and you have to chew on it for a little bit. We'll have to do it for a couple days and get the taste out of our mouth next game."
The Carolina Hurricanes will need to do more that get the taste out of their mouth if they have any hope of rejoining their series. Boston won the first game of the series 5-2 and clearly are the dominating team, and that was after the Hurricanes took the lead in the third period before faltering in the final four minutes.
While Game 1 was close, Game 2 wasn't. It was goalie Petz Mrazek making only 19 saves, and it wasn't until the final 10 minutes before Carolina even scored, and Rask earned another post-season shutout, his seventh. Commenting on the embarrassing loss, Carolina Hurricanes coach, Rod Brind'Amour said,
"The other night wasn't as bad. We were right in the game. They're playing their game; we haven't gotten to ours."
However, not all is lost for Carolina, who also went down 2-0 in their series against the Capitals before returning to tie the series and eventually win it in Game 7. Bobby Orr, a legend in Boston, was in attendance for the game and that saw the crowds giving him a standing ovation.
Jake DeBrusk and Matt Grzelcyk scored in the first period to put Boston up 2-0. That was followed by Danton Heinen outdrawing the Hurricane defence to make it 3-0 and not much later, Grzelcyk scored his second to put the Bruins up 4-0. Commenting, goalie Brind'Amour said,
"That was the cooker. We needed an answer and we didn't have one."
The third period saw David Backes scoring in the early minutes of play to make it 5-0. That goal saw Mrazek glancing towards the bench expecting to be pulled however Brind'Amour chose to leave him in the net. Commenting, Brind'Amour said,
"We talked about it, but he doesn't want to come out. He's a battler. A lot of other guys on the bench deserve to some out, if that's how were doing it."
Patrice Bergeron made it 6-0 before Teuvo Teravainen, and then Justin Williams scored to end the game 6-2.