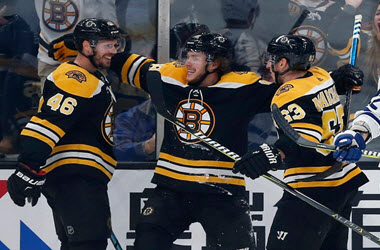 The Boston Bruins seemed to have a steely focus last night as they took on the Maple Leafs. The tide has changed with Boston unaccustomed to the powerhouse Toronto has become this season, but with grit and determination, it was Boston who prevailed with a 6-3 win over the Maple Leafs on Saturday night.
The win brought an end to a three game losing streak for Boston. The night was a success for David Krejci who scored a goal and earned an assist. It saw him move into 10th on the all-time scoring list, passing Cam Neely.
Boston Bruins coach, Bruce Cassidy mentioned that an increase in physical play against those teams with strong and skilled defencemen, such as the Leafs, and it seemed like the Bruins took that to heart. One of those Tony Krug commented saying,
"That's how we were going to win tonight. We had that edge and I think it brought a lot to the table. You look at our lineup and I think that's what we need right now. We're bringing that to the table. We need that to win."
Scoring Boston's other goals were David Backes, Jakob Forsbacka-Karlsson, Danton Heinen, Tony Krug and Ryan Donato. Jaroslav Halak had 29 saves for the night. Tony Krug, Brad Marchand, Ryan Donato, David Pastrnak, Matt Grzelcyk and John Moore earned assists.
Sportsnet
Frederik Andersen, who gave up six goals was pulled in the third period and was replaced by Garret Sparks. Andersen began the night with a near perfect 11-1 record against the Bruins, but it seemed it was not his night. Scoring for the Toronto Maple Leafs was Andreas Johnsson, Travis Dermott and Auston Matthews, each with a goal. Jake Gardiner, Andreas Johnsson, Auston Matthews, Patrick Marleau and Morgan Reily each earned an assist.
As the midway point came, things got heated between the two teams after Zack Hyman checked Charlie McAvoy late in the play. McAvoy had only returned this week after missing twenty games due to a concussion. The hit was not appreciated by Matt Grzelcyk who retaliated and went after Hyman. Commenting on the incident, Grzelcyk said "You hate to see that. Hopefully Charlie's okay."
However, Toronto felt was fair play considering the aggressive play Boston favours. Commenting, Auston Matthews said,
"That's hockey, and it's our job to respond to that. Obviously they made a push back and we didn't respond."
Boston took an early lead and seemed determined to increase the physicality of the game, and that resulted in the Bruins scoring twice in the first period. It didn't take long for Boston to go up 3-1, and early into the third, the Bruins made it 4-0. While the last two games may not have been the best performances for Toronto, oddsmakers still are posting strong odds in favour of the Leafs, and for punters looking to get in on NHL action, one top rated sports betting site, Bodog, is offering up to $200 is sign up bonuses for new players.
The last two games have seen Toronto allowing eleven goals, and for John Tavares, that is not acceptable. Commenting, Tavares said,
"We talked about the importance of defending. It's just going out there and executing. It's difficult to do it over 82 games. There's adversity you face."
The Maple Leafs next play the Carolina Hurricanes tomorrow night at 7pm, before heading to Florida to take on the Tampa Bay Lightning. The Bruins will welcome the Arizona Coyotes on Tuesday before heading on the road to face the Pittsburgh Penguins on Friday.