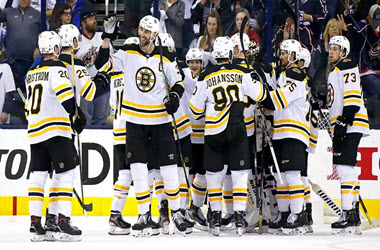 The Boston Bruins arrived in Columbus, Ohio for Game 6 against the Columbus Blue Jackets on Monday night with the chance to wrap up the series with a win, and after the final buzzer sounded, Blue Jacket fans were left in disappointment after watching the Bruins dominating from start to finish.
Marcus Johansson, Patrice Bergeron and Steven Kampher scored the Boston Bruins three goals, and Tuukka Rask, who stopped 39 shots earned his sixth playoff shutout as the Bruins went on to a 3-0 victory and a place in the Eastern Conference final. Johansson, Brad Marchand, Jake DeBrush and David Krejci were awarded assists.
The Bruins came out strong in the opening period and were superb in front of the net with their defensive play. That resulted in their third win in a row to take the series in six games and will now face the Carolina Hurricanes in the Eastern Conference finals and the chance for a spot in the Stanley Cup finals. Punters interested in placing early bets on the impending series will find leading online sportsbooks such as 888Sport offering generous signup bonuses and odds.
Sportsnet
The second period saw Krejci scoring the opening goal, and Johansson and Backes added to the Bruins total in the third with each scoring goals. Boston failed to rein in the aggression and it cost them four power plays however the Columbus Blue Jackets seemed unable to take advantage of the opportunities the Bruins mistakes provided them and ultimately, that cost them the game.
Columbus goalie Sergei Bobrovsky, while outstanding during the regular season and impressive during the post, gave up two goals in the third period in rapid succession to bring an end to a hard checking game and series.
Boston nearly scored a second goal in the first during a power play after Sean Kuraly scored, but this was overturned after video replay showed Bobrovsky was pushed out of the crease by Joakim Nordstrom.
The second period wasn't much more favourable for Columbus and saw them squandering power plays and in one, almost letting in a shorthanded goal when Sean Kuraly went on breakaway. They did manage a close call and chance to get on the score board after a Dean Kukan shot ricocheted off the post.
The same happened to a Jake DeBrusk but Krekci picked up the rebound and sent a slap shot past Bobrovsky. As the second period came to an end Josh Anderson took a nasty hit to the head from Charlie McAvoy but officials ruled it an illegal check and only assigned a two minute penalty. That gave Colorado a one man advantage for the remainder of the game but were unable to produced results.