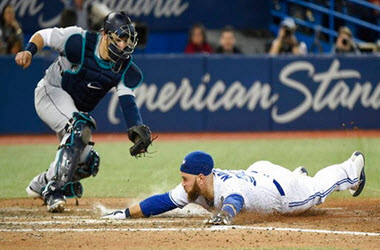 If you were to ask Josh Donaldson, the Jays never should be shut out, or ever go hitless. Success is never a given, but it is expected.
Last night's game was looking bleak for the Jays until an eight-inning stretch saw Justin Smoak, Yangervis Solarte and Donaldson earning four runs to give the Jays a 5-2 win over the Seattle Mariners and racking up 12 hits.
"We expect to have success at the plate, we feel like we have quality hitters that are capable of doing that. I think it's more so on the other lines when we're not getting hits and putting runs up on the board is when we're surprised."
The Blue Jays had difficulty getting runners to home plate right from the start of last night's game. This helped to maintain the Mariners lead after Luke Maile, Teoscar Hernández and Kevin Pillar were both left on base and unable to make it to home plate.
The Jays put four pitchers on the mound last night. Blue Jay pitches Jaime Garcia in five innings on the mound gave up two and struck out three batters. Ryan Tepera, John Axford and Seunghwan Oh each had innings that went scoreless.
The fourth inning saw a solo home run by Teoscar Hernandez got the Jays on the scoreboard but went run less until hitting six in the eight and earning four runs.
💥 Teo is a tank! 💥

Since joining the team in '17, @TeoscarH leads your #BlueJays with 35 RBI & ranks 2nd with 14 homers.https://t.co/BPVdZWy9HZ @budcanada pic.twitter.com/mfsQfB4gOS

— Toronto Blue Jays (@BlueJays) May 10, 2018
Tyler Clippard, who had 61 saves going into last nights ninth, was sent in to close the ninth and struck out two of the four he pitches to in the ninth. The Jays usual closer, Roberto Osuna is on leave after charged assault earlier in the week.
Speaking on the win, Clippard said,
"We're doing it by committee right now. I was told to be ready from the seventh to the ninth, and I'm used to that. It's one of those things I've done in my career a lot."
Josh Donaldson was the selected DH of the night so that his arm could be given a rest. Toronto is not without a few key players with Troy Tulowitzki and Aledmys Diaz both out with ankle injuries, and Devon Travis has been sent to triple-A while he works to improve.
Commenting, Donaldson stated,
"He likes to jab at me a little bit. Maybe I could've been MVP if I was at third base instead of having to catch. He's done a good job. I know he likes playing over there as much as possible but I think I'll be out there tomorrow."
Seattle's Wade LeBlanc, in five innings, struck out five batters and gave up only one run. Chasen Bradford relieved LeBlanc as did Nick Vincent before Juan Nicasio gave up five hits and four runs in less than a third of the eighth inning.
Russell Martin got the crowds in attendance applauding after he grabbed a grounder from Seattle's Guillermo Heredia barehanded to close the 6th inning and sent the ball to first base and the runner out. When asked about the play, Martin replied,
"I'm just a ballplayer, man. Just put me out there and I'll get it done."
The Blue Jays announced yesterday that they made a trade with the Cleveland Indians for Gio Urshela in exchange for cash or a player yet to be named. Gio Urshela has yet to suit up in the majors this year after suffering an injury to his hamstring during training this spring, however, will join the team once his visa is approved.